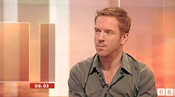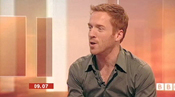 More great clips thanks to Dotty! ➡

Yesterday Damian made a guest appearance on the BBC Breakfast show to discuss his wonderful new film The Baker. Click here to download and view the segment (Quicktime format, 2 parts, Zip file, 68.5 MB) or you can watch the introduction and the interview on YouTube.

Not only is it a great interview that includes clips from the film but it also offers the opportunity to hear Damian speaking in Welsh! 😀

Spoilers! The Personal Pineapple livejournal community has posted a "rewatch and discussion" page for Farthingale (episode 8 of Life starring Damian Lewis.)
Great news! This article in Variety indicates that distributor Vertigo Films has finalized a DVD release agreement with Contender for The Escapist featuring Damian Lewis. 🙂
Very interesting (but not actually about Damian) news:

» Flashbacks of a Fool (Helen McCrory's new film with Daniel Craig) will premiere on April 13th at the Empire Cinema in Leicester Square.

» New Amsterdam – the new show starring Nikolaj Coster-Waldau who plays the (other) handsome hitman in The Baker – premiered in the US this week on the Fox network. Previews aired on March 4th and 6th and subsequent episodes will broadcast on Mondays at 9 pm (ET) starting March 10th. Click here to read more about it.

» Many of the Harry Potter web sites were very interested in Damian Lewis's recent appearance on ITV's This Morning show both because Michael Gambon (Professor Dumbledore) is in the cast of The Baker and especially because Damian mentioned that his wife Helen McCrory begins filming her scenes for Harry Potter and the Half-Blood Prince this week and that "she's very excited and checking all the blogs" to read what other excited people have to say about the film!