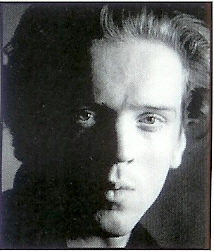 Click here to access scans of "Flaming Damian" the classic Imogen O'Rourke interview with a 24 year-old Damian Lewis from the April 1995 issue of Plays and Players. At that time Damian was appearing as Laertes on the London stage in Hamlet with Ralph Fiennes in the title role.

Damian had played the part of Hamlet a year earlier in the Regent Park's production when he was described by Michael Billington of the Guardian as "a prince of high promise."

Well, he has certainly more than surpassed all of these early, lofty expectations hasn't he? (And wasn't he a cute, young thing!?) 😀

There are images in the Warehouse of Damian as both Laertes and Hamlet.

Talking about his new film The Baker, written and directed by his brother Gareth Lewis, Damian told the Telegraph that "We had a fabulous time making the film and I am delighted with the way it turned out."

The Baker is a very delightful film and it's currently available on region 2 DVD for your viewing enjoyment!

The Mirror's review of The Baker says:

"Damian Lewis is well cast as a hit man who tries to escape his dangerous past by relocating to the Welsh countryside. The locals there mistake him for the new baker, but then welcome him even more when they find out he has been an assassin – they have a few enemies of their own they'd like taken care of. Also starring Michael Gambon, this is a funny little gem, decently acted and edited, with solid comic timing. The DVD includes a commentary, featurette and on-set report."

Click here to enjoy some lovely picspam from The Forsyte Saga Part 1 at firthgal's "This is Zen" livejournal page.