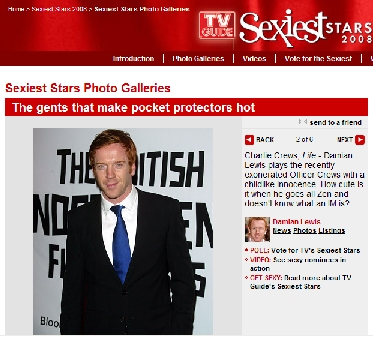 Vote for Damian Lewis!

TV Guide is running their annual polls for the "Sexiest Stars of 2008" and Damian's portrayal of Charlie Crews is a candidate in the Sexiest Nerd Poll! (Charlie Crews is no nerd but – whatever!) Click here for more information. (And thanks to Sal for the heads up!)

Spoilers! More snippits about the second season of Life starring Damian Lewis:

» The March 31st issue TV Guide (page 12) includes a "Fall Sneak Peek" that offers this intriguing information:

"Charlie Crews will realize that his journey has only just begun,' says executive producer Rand Ravich. He'll continue to unravel the mystery behind who framed him for the triple murder that sent him to jail for 12 years. Does it go beyond his enemies in the police department? 'The conspiracy is bigger and closer to home than he could have ever imagined," teases Ravich."

(Thanks to Ann for this news!)

» And Kristin at E! Online! gave us this teaser:

"For you fans of Firefly's Our Mrs. Reynolds, count on Christina Hendricks returning to Life as Crews' stepmother-to-be. Says Life show runner Rand Ravich, "We love Christina in so many different ways. She's great in the show. Yes, she'll absolutely be back. I'm looking at her character's name on my board right now." For her part, I asked Christina about Life at the recent Mad Men event at the Academy of Television, and she told me she planned to do both series, assuming the timing works out…"

YouTube update:

» Enjoy this Deep Waters music video created by svirginiak (featuring a very young, long-haired, scantily clad and dripping wet Damian Lewis!)

» Here is a Band of Brothers Tribute by Klaxonkilla.

» More video clips from Life have been posted by isagrimorie.