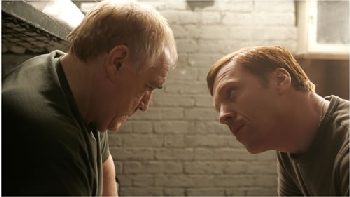 Update on The Escapist with Damian Lewis!

» Wonderful news! The Escapist has secured a North American distribution agreement with THINKfilm! ➡

» A report from the Hollywood Reporter says:

"The price is said to be in the $1 million range plus a significant P&A (prints and advertising) commitment. ThinkFilm expects to release the movie in the fall and follow a similar platform rollout as it did in 2007 with its Sidney Lumet morality tale 'Before the Devil Knows You're Dead.'"

» An article in IndieWire quotes Mark Urman, theatrical division head for THINKfilm, as stating:

"'The Escapist' is a dazzling directorial debut and an exceptional visual and visceral experience … I am thrilled to be working with such an exciting creative team, on both sides of the camera, and if audiences are half as impressed by their work as we are, we'll have a big hit on our hands."

» Variety quotes Urman saying of The Escapist – "It's arresting, it's like nothing we've ever seen on film before".

The article goes on to say that the film will be released in October in Los Angeles and New York "and then platform with a quick, broad, week-by-week expansion."

» And Movie City News shared these comments from director Rupert Wyatt:

"I'm thrilled that my debut film has been picked for theatrical release in the U.S. by such a highly respected company. It was always my intention when making THE ESCAPIST that it should appeal both critically and commercially to a U.S. audience. THINKFilm has now provided us with a fantastic platform to make sure that happens. I very much look forward to teaming up with them over the coming months."

» Anton Bitel of musicOMH gave The Escapist a 4-star review, stating:

"…Ultimately, The Escapist impresses as a recognisable genre film while also breaking free of its generic confines by suggesting that escape is, over and above having the right team and the right tools, a state of mind. Here, the visceral, the intellectual and the spiritual all come together, elevating The Escapist beyond merely escapist entertainment, and offering something that any viewer can dig."

» The Escapist opened the BritSpotting Film Festival in Berlin tonight and is scheduled for release in the UK on June 20th.

» Congratulations to all of the film's supporters especially Picture Farm's Rupert Wyatt (director/writer), Daniel Hardy (writer), Adrian Sturges (producer), and Damian Lewis (co-star)! 😀

Thanks to Dotty for posting a clip of Damian Lewis's recent comments about the sad passing of filmmaker Anthony Mingella on YouTube.