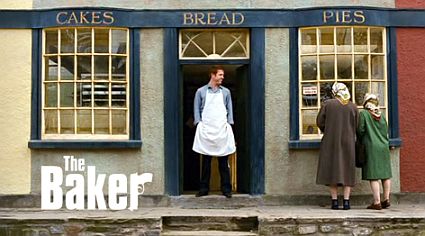 The region 1 DVD (Canada and US) for The Baker, written and directed by Gareth Lewis and starring Damian Lewis, is no longer out-of-stock and is once again available from Amazon Canada. 🙂

The Baker is also currently available on region 2 DVD (Europe, Japan, South Africa, Mideast, and Egypt) and will be released on region 4 DVD (Australia, New Zealand, Pacific Islands, Mexico, Central America, South America, and the Caribbean) on September 18th.

This Serious Comedy Site review for The Baker DVD states:

"The only thing better than a black comedy is an over the top, absurd, and wickedly funny black comedy. The Baker, starring Damian Lewis, is one hell of a funny black comedy DVD.
Damian Lewis plays Milo, a hit man who botches a job and must hide from reprisals until his boss can set things right. He finds shelter in a bakery in Gwynfyd, a remote Welsh village. Since the villagers are expecting a baker, a baker he becomes. Milo soon discovers he was born to be a baker.

Through some very strange circumstances involving an exploding ram, some villagers soon discover Milo's real identity. Because of more strange coincidences the first chocolate cake Milo bakes for a customer coincides with the early demise of that customer's wife. Milo the baker and his chocolate cakes then become very popular.

At first, Milo does not know the villagers know who he is or why chocolate cakes are all the rage. Eventually, Eggs, his assistant sets him straight:

Milo: "Is there anybody in this village who doesn't want someone dead?"

Eggs: "Possibly Mrs. Pritchard?" 😆

This leaves Milo is a difficult situation. Well, many difficult situations: a hit man is after him; a local girl has raised his dough; and his assistant has just completed one of the chocolate cake orders and is quite distraught.

The Baker is a hilarious movie. The actors playing the people of Gwynfyd are great, the various feuds and hatreds are extremely funny, and there are so many absurdly comic scenes you end up having to back up the DVD because you were laughing too hard. The writing is also superb and full of little comic gems:

Milo: "Everybody has a few skeletons in his closet."

His girlfriend: "That's supposed to be a figure of speech!"

At first the ending seems to veer toward the kind of Hollywood melodrama too many of us have become used to but there's a great twist and the movie is comically absurd to the end.

The Baker is one black comedy movie you will not regret buying." ➡

Click here to view the trailer for The Baker.