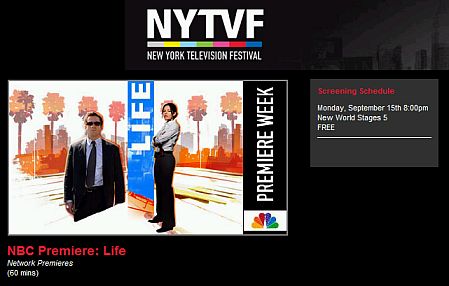 Damian Lewis and the other cast and crew of Life will not participate in the season 2 "sneak peek" screening at the "New York Television Festival" on September 15th! 🙁

The Director of Communications for the festival kindly shared this information:

"Unfortunately, NBC has told us that the cast and creators of "Life" are in production that day and are unable to make it to the screening. It is disappointing, but I hope your NY contingent will still turn out to support the show's second season premiere. Tickets to the screening will be available starting September 2nd at the NYTVF Web site. There will be free giveaways of several DVD copies of the show's first season at the screening as well."

The Life season 2 debut is free and open to the public. Tickets will be available at the Box Office starting September 2, 2008.

This lucky fan reported seeing Damian Lewis at a Peet's Coffee and Tea shop in Los Angeles just recently! 😀

The picture below is provided as consolation for the rest of us who are not as fortunate. It was taken at a Starbucks in Santa Monica, California long ago on July 28, 2001! Click here to view additional photos from this set at the Warehouse.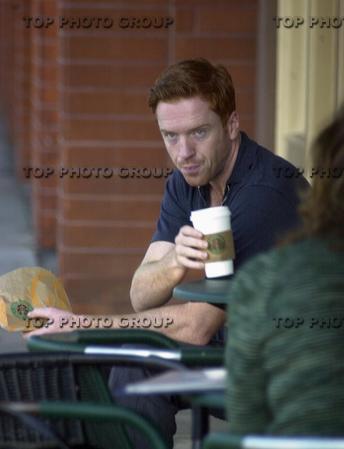 Damian Lewis fans in Latin America are eagerly anticipating the premiere of Life on AXN starting September 3rd! ➡ Erica sent this message:

"Hola!! Acabo de ver en AXN el anuncio de LIFE inicia el 03 de septiembre, estaré atenta de ver nuevamente a Damian. EC"

Firthgal reports that she has been notified by Deep Discount that her Life – Season 1 DVD was shipped today in anticipation of the September 2nd release! 😀
News from the neighborhood!

» Grimorie has discovered a more comprehensive version of Sarah Shahi's Star TV interview in the Malay Mail; including this comment about working with Damian Lewis on Life:

Question: "What's it like working with Damian Lewis on and off set?"

Sarah: "Horrible (laughs)! He's one of the most charming fellows I have ever met! I love working with Damian. We got along very well. We bicker with each other. He is a wonderful actor to work with, and all of the co-stars are. I work with him and I learn from him. We have a great chemistry together and I think it shows on-screen. We really have a great time working with each other. You know, Damian really likes me! It's hard because he has such a big crush on me (laughs) and I have to reject him so many times! I'm just kidding! I don't want to get him into any trouble."

» Ryanne shared the links for scans of Damian Lewis news clippings and for the Charlie Crew's conspiracy wall.

» Ann has created 2009 calendars for Damian Lewis, Helen McCrory, and Gareth Lewis.

New music videos!

» Thanks to Barkley for sharing this link to download Life Begin Again, a gorgeous Charlie Crews music video.

» Click here or here to view a beautiful music video by jagwriter78 featuring clips of Sophia Myles and her co-stars in 3 different films including Colditz with Damian Lewis and Thomas Hardy.