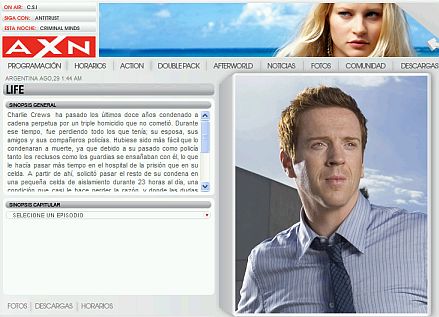 Latin America's AXN Network has posted a new page for Life in anticipation of the September 3rd premiere of the program. Click here to view the video promo on AXN's home page.
Thanks to Linda for the news that season 1 of Life will premiere in Belgium starting this Sunday evening, August 31st at 22:30 on Flemish channel VT4. 😀
There's a new article in USA Today about Life starring Damian Lewis that includes quotes from Damian Lewis and executive producers Rand Ravich and Far Shariat:

NBC's 'Life' is revived; but question is, can it thrive?
Cop on a mission: Damian Lewis stars as the complex Charlie Crews in Life.
August 28, 2008
By Gary Strauss, USA TODAY

In life, one seldom gets a second chance. That's the premise behind NBC's Life, the cop drama that gets a second chance of sorts when its new season opens Sept. 29 (10 ET/PT). NBC is giving viewers ample opportunity to sample the series after the writers' strike cut its freshman run to 11 episodes. Three more shows air on Oct. 3, 6 and 10, when it rests in its Friday slot.

"NBC understands the difficulty of selling this show," says creator Rand Ravich. "The first episode needs to serve as a pilot, as if you've never seen it."

Indeed, new viewers may need a refresher course on the characters and complex back stories. British actor Damian Lewis (Band of Brothers) stars as Charlie Crews, an L.A. cop who is back on the force after serving 12 years for homicides he has been cleared of, and he's tracking the conspirators who framed him. Crews emerges from prison as a Zen disciple, challenged by modern conveniences and partial to fast driving and fresh fruit.

A financial settlement made Crews a multimillionaire. Adam Arkin (Chicago Hope) takes the role of Ted Early, the paroled financier who is Crews' housemate and money manager. Sarah Shahi (The L Word) co-stars as Crews' reluctant, sobriety-challenged partner, Dani Reese, and Jennifer Seibel plays his ex-wife, Jennifer, with whom sparks still fly.

Lewis relishes the complexity of Life's story line and his character. "He was in maximum security most of that time, fighting for his life, the rest in solitary confinement," Lewis says. "You have a character who is wild and imaginative and poetic and cracked and warped as you like. The world has changed."

Anticipating the strike, Life's writers shortened some story lines but stuck to their game plan of Crews identifying who actually carried out the murders in which he was implicated. This year, Crews will delve into the bigger conspiracy, which "will have answers every episode," says executive producer Far Shariat. "We won't wait until the end of the season to hit those milestones."

But Life will experience ample lighter moments, too. "Crews was constantly battling the forces of revenge and transcendence. We're resetting that to where it's a brightly lit world — money, cars, girls that want him," Ravich says. "It's all about wish fulfillment."

Ravich and Shariat previously developed a procedural cop series and one about witness protection; neither aired. They hope Life endures. "We talked about our favorite shows —House, Dexter, Sopranos— they were all character-based. That's what we wanted for Life. We hope we offer more than just a cop show. The (genre's) a little tired," Ravich says.

"It's so hard to find original beats and colors in the cop genre," Lewis says. "It's an ambitious show."

CATCH UP ON 'LIFE'
Life
(NBC, Fridays, 10 ET/PT)
Returns Monday, Sept. 29

-Last season: 8.1 million viewers.

-Where we left it: Detective Charlie Crews (Damian Lewis) learns who committed the murders for which he was wrongly imprisoned.

-Where it's headed: Crews continues to hunt for the conspirators who framed him. "There's plenty of unfinished business," Lewis says. "There are five or six conspirators involved in setting up Charlie. We'll go to each one of them. The plot will thicken." Donal Logue joins the cast as Crews' supervisor.