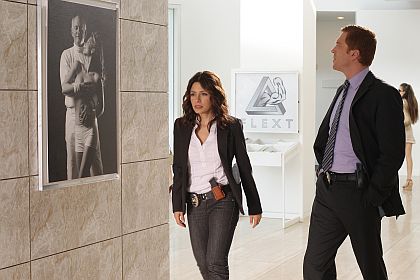 New still photos from the new season of Life! 😀

Visit the Warehouse Gallery for promotional stills from "Everything…All The Time" (spoilers!) episode 2.02 of Life which will air on NBC in the US on October 3, 2008. The young actor shown arguing with Detective Crews (Damian Lewis) in some of the pictures is Matt Lanter.

Once again thanks to
dryope for the hi-res photos, including the intriguing image above.

Note: the large picture that Charlie Crews is shown studying is actually a photo portrait taken by Life executive producer Daniel Sackheim! 🙂



In a new press release NBC announced plans to offer large scale, on-demand access to many of the network's programs (including Life) via a large variety of distribution channels, often prior to the network broadcast:

NBC unveiled its ambitious, multi-pronged promotional efforts to roll out its new Fall 2008-09 series that will allow viewers to sample full episodes of new and returning shows on-demand prior to their broadcast premieres and utilizing a multitude of distribution platforms. The announcement was made today by John Miller, Chief Marketing Officer, NBC Universal Television Group and President, The NBC Agency.

Distribution partners include top cable, satellite and telco video-on-demand providers including Comcast, Cox, Charter, DISH Network and Verizon FiOS TV, each of which will be making full-episodes available in high definition. For the first time ever, in addition to NBC.com, NBC will also utilize Hulu to provide on-demand streaming of several fall shows. All Hulu distribution partners, including Yahoo, MSN, AOL, MySpace and Fancast.com will provide access to the full episodes. The shows will also be made available for instant viewing and download via Amazon Video On Demand's online retail store. Additionally, episodes are available on Xbox LIVE on Xbox 360, along with Zune Marketplace, which will give consumers portable access via Microsoft's Zune player…

The season premiere of Life episode 2.01 "Find Your Happy Place" (spoilers!) will be available for online viewing at NBC.com and Hulu.com on September 22nd; a week before the September 29th network broadcast.