Hooray; it's finally here! ➡

Season 2 of Life starring Damian Lewis will premiere in the US on NBC tomorrow night on Monday, September 29th at 10pm! A second new episode will air this week on Friday at the same time; click here for schedule information (Eastern Time) and be sure to check your local listings.

More changes to the nbc.com official site for Life.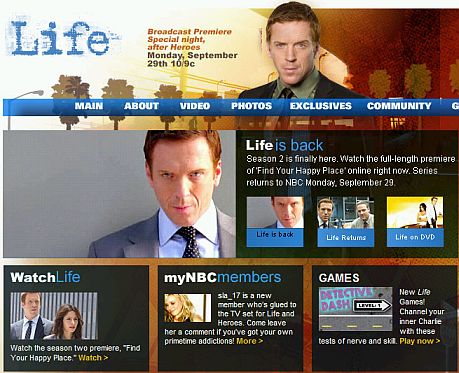 Updated photos and video have been added;
Ted Earley's Blog has been posted; a biography for actor Donal Logue is now available along with a character bio for Captain Kevin Tidwell.

Damian may not appear on the September 29th edition of the Today show after all! 😥

NBC had previously announced that Damian Lewis would make a guest appearance on the Today Show between 10am and 11am on September 29th to promote the season premiere of Life; but he does not appear in the latest listing of Today guests through October 10th! We've been robbed! 🙁

Dotty shared the news that the UK's ITV network has started running "teaser trailers" for season 1 of Life which will broadcast on ITV3 this fall.

Jojo said that the Global network is now running promotions for the September 29th season premiere of Life in Canada such as this advertisement posted by yixing11917.

Thanks to Melinda and Ann for the news that NBC has increased television and newspaper promos for their new season premieres including Life; click here for an ad posted by marcosxD15.

Entertainment Weekly's "PopWatch Must List" for the week of September 28th includes tuning in for the season premiere of Life as something that readers must do this week! The "Must List" also appears in the October 3rd issue of EW magazine (thanks to Ann for the info.)

LIFE on NBC
Damian Lewis returns Sept. 29 at 10 p.m. as wrongly jailed peacenik supercop Charlie Crews. But don't get this Zen master angry: Charlie is a tightly wound dude with a grudge and a gun.

Click here for a clever new music video from Shervin titled "Life – Smile". 🙂
Tickets are still available for October 11th and 12th screenings of the The Escapist at the Ghent Film Festival; thanks to Linda in Belgium for the heads up!