Vengeance is Very Un-Zen Like
by Jim Halterman | The Futon Critic | September 29, 2008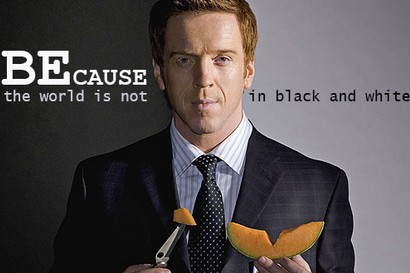 Tonight marks the season two launch of of "Life," the crime drama starring Damian Lewis as Charlie Crews, the quirky detective who spent 12 years of his life in prison for a crime he didn't commit. And as an extra boost for its sophomore run, "Life" will follow "Heroes" this Monday and next in addition to its regular time period of Fridays at 10:00/9:00c. Jim Halterman talked to Lewis, co-star Sarah Shahi and executive producer/co-creator Rand Ravich about the new season.
Ravich wanted to give some advice to viewers who didn't get a chance to check out "Life" during its first season, which was shortened by the WGA strike. Viewers, he said, should not "be afraid [and] although 'Life' has a reputation for being slightly serialized, this year starts all over again. I mean, if you had never seen this show before you can come to the first episode this year and be caught up by the end of the recap, which is only 21 seconds long." He also encouraged new viewers by saying, "We've constructed the first episode to act as kind of a booster pilot. So you will not be left behind if you come fresh."
Lewis, a Brit who masterfully uses an American accent with the Crews character, joked that in the new season "Crews will continue to bounce back between the kind of pick and mix candy store girls that keep falling in his lap metaphorically and literally." However, speaking more seriously, he offered, that Crews would continue to feel "the ongoing heartache with his ex-wife (Jennifer Siebel)." As for his partner in crime fighting, he said, "His relationship with Dani Reese (Shahi) improves steadily, weekly. They seem to have a good, solid respect for each other and accept one another's differences."
Another design for Crews this season is to continue to develop his quest to find the person responsible for having him lose 12 years of his life in jail. Lewis said that the resolution would not happen quickly, obviously. "If he finds out who did it, who set him up for the triple murder, I think that'll be some kind of closure and he'll be able to carry on with his life as normal."
Lewis did offer up "something [Crews has] established early on in this season's show what becomes clear is more than just one person [has] been operating this thing. There are five or six of them and he's going to systematically work his way through them and find out exactly where that leads him. We don't know how deep, how high up this corruption will go, who's behind the whole conspiracy."
"This kind of vengeance machine," Ravich interjected, is "inside the Charlie Crews character [and] at any moment he could decide he's had enough and walk away. But if he needs that satisfaction – that vengeance that is very un-Zen-like – he'll never stop looking. And so, at some point, the question has to be asked is this enough? Have I closed enough circles? Have I sought enough – have I gained enough vengeance? And can I get back to life or will it never be enough. That conspiracy level works both from the inside and the outside."
As Crews makes his way through life, however, one thing that won't be changing anytime soon is the way Crews periodically comes up against parts of modern technology that didn't exist before he went into prison. Ravich vowed, "There's always going to be those things" and, citing a specific example, "in the first episode this year he has an issue with the automatic towel dispenser in the bathroom." Those items, though often comical, will continue to remind Crews of what he missed out on while locked up.
Texas-born Shahi also talked about her character's changes with the new season. "When we first see Dani she's just a little bit better in terms of her edginess and her sobriety… on a scale of one to ten she's maybe like at a seven or so." Reese has also been adjusted in other ways to reflect such a change, Shahi said. "Physically she's a bit different. Her hair is down. Her wardrobe got a bit flashier. But I think she's going to be challenged at some point with her sobriety and possibly relapse."
Detective Reese will also get a love interest this season that, according to Shahi, "is different for her. She can't feel love… [but] he's the first person that her guard has come down with and she becomes vulnerable, too." Judging from the first episode of the new season, that love interest could wind up being new cast member Donal Logue, playing Captain Kevin Tidwell, the new boss to Crews and Reese. Shahi teased that their relationship is "going to develop as well into something else." One other upcoming story development for Reese is the mystery with her father, which brings her character to a parallel story with Crews, who is also seeking unanswered questions about his past. Shahi did say "I think it's in Episode 3 this year where Dani, in her own way [since] she doesn't take to confrontation very well, she does kind of have a moment where she confronts her father."
Shahi reminded, "There was a moment last year where she was trying to figure out whether [her father] was mean or bad. So she has a personal experience with her father but, as far as the details, I would say she's not witting to all of them." The personality differences in detective partners are a staple of the crime show genre and Crews and Reese are no exception.
Speaking of his two lead characters, Ravich mentioned the manner in which the big questions in their life are sought reveal just how dissimilar they actually are. Using an emotional scab as a metaphor, Ravich explained, "The difference between the Crews character and the Reese character is that Charlie Crews can't help but pick at it, wants to know, wants to know, wants to know. And Reese, like a lot of us… you don't want to know." To that notion with Reese, Shahi elaborated. "You don't want to know and you just kind of want to. It goes back to the kind of outline for her which is kind of because of the rehab and the drugs and all that attention, it's like let me just put my head down, do my job."
Also in the cast is Adam Arkin, who will also see his presence in the series expand this season as the character of Ted Early is integrated further into the stories this year. Since he was Crews' cellmate in prison, Lewis explained, "He's the one guy who Charlie can share his experience with. I use the analogy of war veterans, people who come back and feel isolated and disenfranchised because there's no one that'll understand what they've been through. So [Early] is an emotional crutch for [Crews] and, you know, he's his boyfriend, for Christ's sake. You know, he's his emotional partner as well as just a roommate."
Ravich compares their relationship to being "like two astronauts who have been to the moon. At the end of the day, what they went through the other people in their lives cannot understand and so they have this in common." Ravich also took the time to commend his actors for their hard work on their hard work. "You have to make a movie every week and Damian and Sarah are on every page of the script. So, every eight days they're making a little feature and it's grueling the amount of work the two have to do. And I couldn't be happier or luckier to have them both in my cast."
Read the rest of the original article here