Thanks to dj for the great screencaps for Life episode 2.02 "Everything…All The Time".

This episode is now available for free, online viewing at Hulu.com and at NBC.com. It is available for purchase at amazon.com for $1.99. The episode can be downloaded from iTunes for $2.99.

On-demand cablevision subscribers can watch the episode for $0.99. If you get Comcast OnDemand you will find it under "TV Series" and "Life".

Spoilers! The gorgeous, new Maserati purchased by Charlie Crews is the Quattroporte model.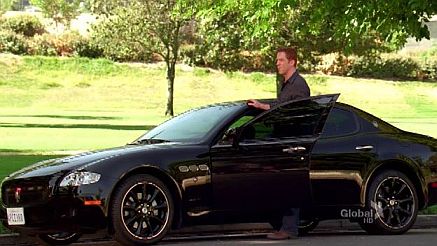 Charlie's sunglasses are also Italian; they're Persols, the brand preferred by another handsome British male – James Bond (Daniel Craig)! 😉

Sarah Shahi is no longer listed as an upcoming guest on Late, Late Night With Craig Ferguson next Tuesday – once again we've been robbed! 🙁
Director Rupert Wyatt and cast members Liam Cunningham and Dominic Cooper are currently in France at the 19th British Film Festival of Dinard where The Escapist is screening in competition.

Click here and then select the video titled "Le festival bat son plein…" they appear 6 minutes into the clip.

The Escapist will be distributed in France by Haut et Court.

Click here for more details about the Band of Brothers blu-ray DVD that will be released in the US on November 11th; the American "Veterans Day."