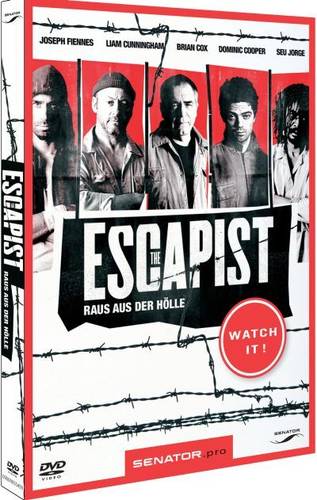 Rupert Wyatt's acclaimed film The Escapist with Damian Lewis is being released on Region 2 DVD in Germany by Senator Home Entertainment under the title of Raus aus der Hölle. The German DVD will be available for rental on January 28th and for purchase on February 23rd.

In the UK The Escapist Region 2 DVD will be released for rental on January 12th and offered for sale on February 9th.

The Escapist is scheduled for theatrical release in The Netherlands on April 16, 2009.

Alan Sepinwall of the Star-Ledger offered the comments below about "Trapdoor", episode 2.12 of Life starring Damian Lewis:

"Life," "Trapdoor" (NBC, 12/17): The drama about Zen-quoting cop Charlie Crews (the wonderful Damian Lewis) often struggles to balance its one-shot stories with the longer arcs about the conspiracy that put Crews in prison for 12 years for a murder he didn't commit. The show's fall finale managed to bring together all the disparate threads, while reintroducing "Deadwood" alum Garret Dillahunt as a cold Russian gangster, in a concentrated burst of comedy, surprise and sheer coolness.

In the US you can watch "Trapdoor" online for free at NBC.com.

Thanks to Stacy for the news that Best Buy, the US retailer, has cut the in-store price of HBO DVD box sets by 50% and are currently offering Band of Brothers for $32.49 on DVD and $37.49 on Blu-ray! Click here for more information.