Click above to view a video clip of two of Damian Lewis's Life co-stars, Donal Logue and Adam Arkin, discussing the show on the red carpet at the recent American Film Institute awards ceremony.

Life was honored by the AFI as one of the outstanding television achievements of 2008; click here to read the press release.

Spoiler warning! NBC Universal has released the storyline below for Life episode 2.13 titled "Re-Entry" that will broadcast in the US on February 4, 2009 at 9PM (ET) on NBC:

"NASA PILOT SHOT TO DEATH MID-FLIGHT — When a retired NASA pilot is shot to death mid-flight, Charlie Crews (Damian Lewis) and Dani Reese (Sarah Shahi) work to narrow down the list of suspects who include the dead pilots son and his current business partner. They must also take into consideration the pilot was about to pay the Russians 35 million dollars to take him back into space. Meanwhile, Tidwell tries to get Crews to remember who shot him. Adam Arkin and Brent Sexton also star."

Thanks to Sal for this link to a Variety article about the image and programming challenges currently facing NBC:

"Is it a late night comedy brand, a la Leno/O'Brien/Fallon/SNL? A single-camera comedy brand in the vein of "The Office" and "30 Rock"? A young male-oriented brand, thanks to NFL Sunday Night Football, "Chuck" and "Heroes"? Or should quality drama — "Life," "Friday Night Lights" — be its bread and butter?"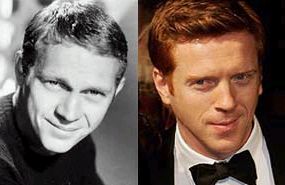 James White at the TotalFilm site has listed Damian Lewis as the number one choice to portray Steve McQueen in an upcoming film biopic.

All over the world fans are voicing their support for Damian Lewis as Steve McQueen; check it out at this Russian livejournal site. 🙂

Click here to view fantastic "animated icons" for Life that were created by Grimorie.