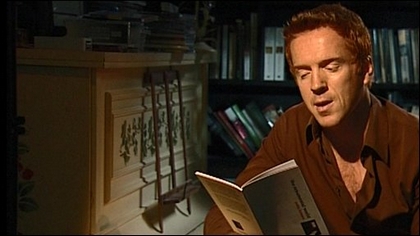 Click here in our media area to download three of Damian's poetry readings from the last Friday's Newsnight Review. Thanks again to the indispensable Kaz! ➡

UK reminder: Season 2 of Life begins Wednesday, June 3rd at 10:00 pm on ITV3! Here's ITV3's press release for Episode 1: "Find your Happy Place ".

The BBC program page for Keep on Running: 50 Years of Island Records now says that Damian Lewis will narrate the documentary. (Thanks to Ann for the headsup!) The program airs Friday, June 5th at 9pm on BBC4 and repeats later that night at 12:30am and again on Saturday at 10:35pm on the same channel. The Radio Times review:

This enthralling celebration of the independent record label unfolds like a personal history of rock and reggae. All fans will get their reward with countless well-chosen musical highlights and anecdotal gems. The feature-length film is built around a rare interview with gentlemanly Jamaican, Chris Blackwell, whose family fortune based on sugar and Appleton's rum meant he could champion ska in 1959. Within a decade he'd built a roster of innovative white acts, ranging from Free to Nick Drake. What's clear is that Blackwell trusted his artists enough to give them their heads. None more so than Bob Marley. Others including Cat Stevens, Grace Jones, Bono and Sugababes tell why Island was the perfect home for them. Enjoy more performances, including Roxy Music, in Island at the BBC, which follows.

Click here for the second in Star Ledger critic Alan Sepinwall's series of articles that revisit Band of Brothers; the article on the second episode "Day of Days" includes these comments about Damian/Winters:

The technical achievements of "Band of Brothers" are amazing throughout, but I still get particularly big chills watching the CGI-enhanced tracking shot of Winters jumping out of his plane as the flak flies all around him, floating serenely (as only Damian Lewis-as-Dick Winters can) through all the flak and explosions and carnage around him and landing on the fields of Normandy.

Yet for all the amazing effects and photography and sound design, "Day of Days" wouldn't work as well as it does if it didn't continue to stick with Winters once he hits the ground. There are a few scenes he's not present for (the destruction of Lt. Meehan's plane, the business with Malarkey and the German prisoner and Speirs), but he's at the center of most of the action, and puts a human face on all the mayhem — even if it's an amazingly calm face.

My three favorite characters from this miniseries are Winters (so perfect, and yet never dull for being perfect), …

wildpalebluemoon and Linda in Belgium recommend the recently released We Who Are Alive & Remain: untold stories from the Band of
Brothers by Marcus Brotherton for further reading. Click here for the book's official website and here for the Amazon link.

Thanks to Eowyn for uploading a scan of her personalized autograph of Damian Lewis to the gallery.