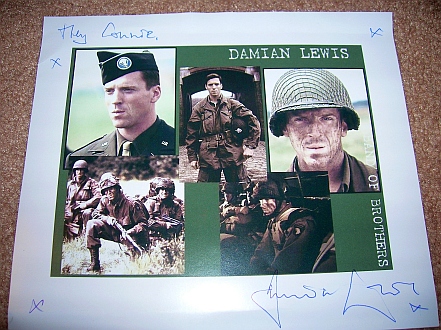 Thanks to Connie from New Jersey for sharing her personally autographed composite image of Damian Lewis as Major Richard Winters. The autograph was obtained in London (for Connie) by Georgi from Australia!

Damian Lewis fans are all part of one, big, happy, international family! 😀

The Escapist with Damian Lewis is the "£0.99 iTunes UK Film of the Week"!

Thanks to Ann for the news that The Escapist is screening in Saratoga, NY on June 5th and 7th and that An Unfinished Life will screen in Schaumburg, IL on June 24th.
Click above for a new music video by Navhy23 titled "Life – When I Grow Up".
The Region 1 DVD for Life – Season 2 starring Damian Lewis as Detective Charlie Crews will be released in North America on August 25, 2009. According to Jeff Hodges at tvonmedia.com the 5-disc set will offer these extras:

Life – Season 2 – DVD Extras:

– Deleted Scenes

– The Business of Miracles – Commentary with Creator/Executive Producer Rand Ravich, Executive Producer Far Shariat and Series Stars Damian Lewis, Sarah Shahi, Adam Arkin & Donal Logue

– Did You Feel That? – Commentary with Creator/Executive Producer Rand Ravich, Executive Producer Far Shariat and Series Stars Damian Lewis, Adam Arkin & Donal Logue

– Hit Me Baby – Commentary withn Creator/Executive Producer Rand Ravich, Executive Producer Far Shariat and Series Star Adam Arkin

– One – Commentary with Creator/Executive Producer Rand Ravich and Executive Producer Far Shariat