Click here to read about the "Shooting Stars in Desert Nights" charity golf-outing and gala ball on June 11th hosted by Samuel L Jackson. The article includes the news that Damian Lewis will be one of the "Team Captains" for the golf tournament.

BBC Four will broadcast a documentary this Friday, June 4th titled "Keep on Running: 50 Years of Island Records" about Chris Blackwell, the founder of Island Records. The documentary will be narrated by "Damien Lewis" but it is not clear if that means "Damian Lewis the actor" or "Damien Lewis the drummer"?! Click here for more information about the program.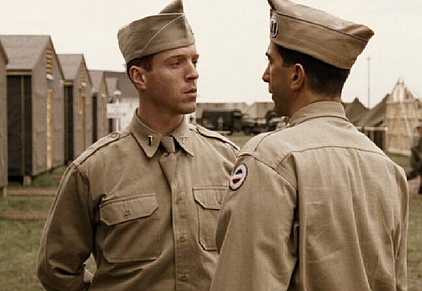 Alan Sepinwall, television critic for the Star Ledger, has launched a series of discussion articles on "Revisiting Band of Brothers"; the Emmy-winning HBO World War II mini-series starring Damian Lewis as Major Richard Winters. Click here for the first article about episode one "Currahee" that includes these comments about Damian's performance:

The brilliance of Lewis in this is that he finds a way to make the ordinary aspects of Dick Winters seem extraordinary, rather than trying to play him as an overtly extraordinary man. He's not a superhero, he doesn't give rah-rah speeches or lose his temper or in other ways act larger-than-life; he's just a regular guy who turned out to be ideally suited to irregular circumstances, and Lewis embraces that aspect of the character. Just watch how quietly and simply Lewis plays the scene where Sobel tries to get Winters to accept his assigned punishment rather than face a court-martial. There's never any doubt that Winters is going to take this all the way if he has to, and yet there aren't any theatrics about it; he's just sure of the rightness of his position, and of his ability to prevail over Sobel, and he's going to see this thing through.

I especially love the way Lewis plays the scene at the end where Winters helps each of his men to their feet as they get ready to board the plane for their mission over Normandy. This idea that the men were so weighed down by their gear that they had to lie on the tarmac, one on top of the other, and be pulled up — like a kid being helped off the grass by his father — is one of the series' many "truth is more interesting/moving than fiction" moments, and the serene, paternal look on Lewis' face is just beautiful. Sobel's contribution to the success of Easy Company is clearly in question, while Winters' was not, and a moment like that, and the way the men look back at Winters, makes it clear as to why.