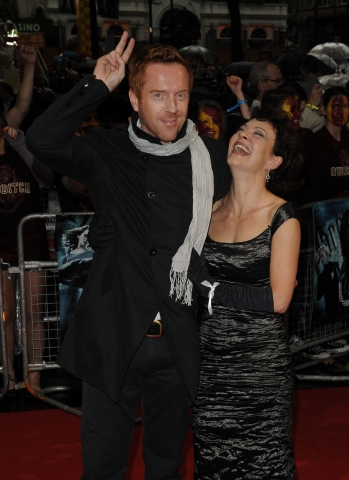 Damian Lewis made the unusual hand gesture shown in the photo above at Tuesday's world premiere of "Harry Potter and the Half-Blood Prince". What do you suppose he's doing? Perhaps he is using "bunny ears" to say hello to his loyal fans! 😀

A big thank you to idle.hands for the photo!

Damian Lewis appears in the background on the left in this Helen McCrory interview posted by Rupert Grint Media.

Click here and here for video reports about Damian Lewis's new film Your Highness.

According to The Hollywood Reporter actress Zooey Deschanel has also joined the cast of Your Highness.

Thanks to Ann and Anke for the links!

Click here for information about the July 23rd release of Damian Lewis's film The Escapist in The Netherlands; thanks to idle.hands for the link.