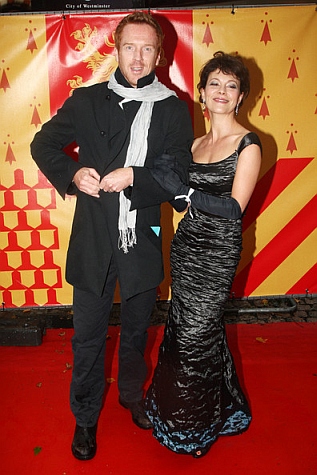 New videoclips of Helen McCrory and Damian Lewis at the London premiere of Harry Potter and the Half-Blood Prince:

» Damian appears at approximately 3.15 minutes in this video posted by elizabethtoni.

» An interview with Helen McCrory begins at around 45 seconds in this Mugglenet.com clip posted by Nmyers89. Helen says that she will begin filming "Harry Potter Part 7" next week.

» You will see a brief glimpse of Damian and Helen at about 54 seconds into this clip from elizabethtoni.

Thanks to netti of Germany for uploading two new pics of Damian and Helen at Tuesday's premiere to the gallery.

This article in the Hollywood Reporter says that Julianne Moore has dropped out of Helen McCrory's new film The Special Relationship and that Hope Davis will play Hilary Clinton. The movie will begin production in London on July 20th.