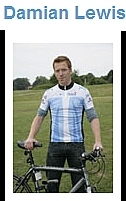 The Unite By Cycling site is featuring a photo of celebrity ambassador Damian Lewis and information about his participation in the September 19th Tour of Britain cycling event to benefit the Prostate Cancer Charity:

Actor Damian Lewis, who cycles regularly, both at home in London and LA, and when he is filming, said: "I live in North London and I can get to Soho on bike routes in 15 minutes and I love it. We should have more cycle routes. It's a fantastic way to get about.
"We also ride a lot together as a family. I love having my son and my daughter on the back of my bike. It's a great way of taking your kids around. Its gets them out of the buggy – and it's a real treat for them…

…I feel passionate about supporting The Prostate Cancer Charity in improving the lives of the 35,000 men, and their families, who are affected by the disease every year.

The event will be televised on ITV4; click here for more information.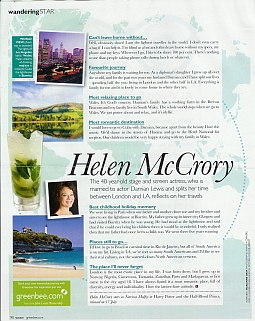 Thanks to Linda and Jill for this Helen McCrory interview from Source Magazine. In the article Helen talks about her dream of visiting Cuba with her husband Damian Lewis, the homes of their families in Wales, and a favorite childhood memory.

Chris Ball of the Cleveland Plain Dealer previewed the August 25th Region 1 DVD release of
Life Season 2 starring Damian Lewis as Detective Charlie Crews:

DVDs coming out Aug. 25; "Life," season two

When a wrongfully imprisoned policeman finally gets out of jail, he's a changed man. Though few on the force trust him, he returns to work solving gruesome murders, but now with a Zen-like appreciation for life. Damian Lewis is enjoyably off-the-wall as the star of this unique cop show on NBC. Former Dallas Cowboys cheerleader Sarah Shahi co-stars as his serious-minded partner, and Donal Logue joins the cast for the 2008-09 season. 21 episodes, 15 hours. DVD extras: deleted scenes, a gag reel and audio commentaries. From Universal. nbc.com.

Keane starring Damian Lewis will air on Sky Arts 1 in the UK on Wednesday, August 26, 2009 at 6:30pm.