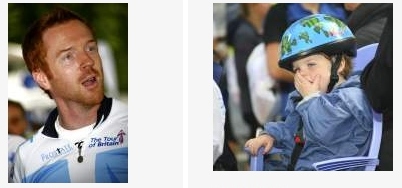 Visit the Warehouse for more pictures of Damian Lewis and his adorable son Gulliver participating in the "Prostate Cancer Charity London Tour" on September 19, 2009. 😀

Deborah Ground Buckner's review for the "Kansas International Film Festival" screening of The Baker includes these comments:

Each village character manages to stand out from the ensemble, becoming clearly definable and engaging. Audiences will be pulling for Milo (Damian Lewis) and his belief that "Everyone deserves a second chance." Beautiful scenes of the countryside (juxtaposed against the impact of Eggs and his explosives) and charming storefronts create an enchanting world. Michael Gambon is great fun as the seen-it-all done-it-all Leo, Kate Ashfield provides a lovely, spirited love interest, and the mysterious relationship between Milo and Bjorn is fun to watch as it unfolds.

The Baker received the Best Feature Film award at the RiverRun International Film Festival (2008), the Audience Favorite Award at the Connecticut Film Festival (2009), and the Gold Remi Award for Editing and the Special Jury Remi Award for a Theatrical Feature Film, at Worldfest Houston (2009).