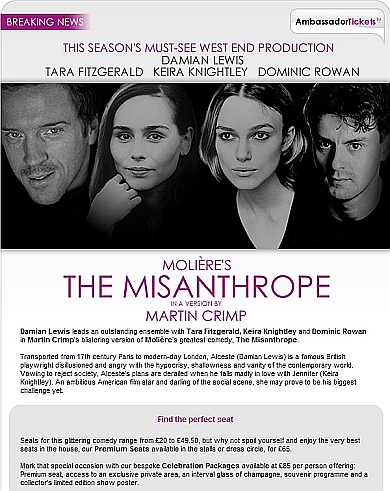 Updates on The Misanthrope, the new theatrical production starring Damian Lewis that will run at London's Comedy Theatre from December 7, 2009 through March 13, 2010:

» Visit this site's new page for The Misanthrope to learn more about the production.

» Damian Lewis fans are coordinating plans to attend the play; click here for more information and click here to order tickets.

» Martin Crimp's updated screenplay of Molière's classic comedy is available for purchase from Amazon.co.uk (UK) and Amazon.com (US).

» This article in Marie Claire says that Keira Knightly "will be acting opposite revered stage and screen actor Damian Lewis" and according to the Post Chronicle the actress will have a signing role in the play.

» The Internet is buzzing with news about The Misanthrope. Check out these articles from the BBC News and Broadway World and click here to access additional articles.

Thanks to Funn L. for the head's up that season 2 of Life starring Damian Lewis will begin running on Malaysia's Astro network later this month.

Visit the Warehouse Gallery for new scans from the Royal Shakespeare Company's 1996 programme for "Much Ado About Nothing" featuring Damian Lewis as the villian Don John.

Another gallery update: Thanks to spooky-window for the gorgeous new Life banner and wallpaper found here and here at the gallery. She's also posted beautiful new Life icons here at her journal.