All Revved Up: Damian Lewis Stylishly Delivers in Jaguar's Short Film Desire
by Michael O'Connell | Hollywood Reporter | April 24, 2013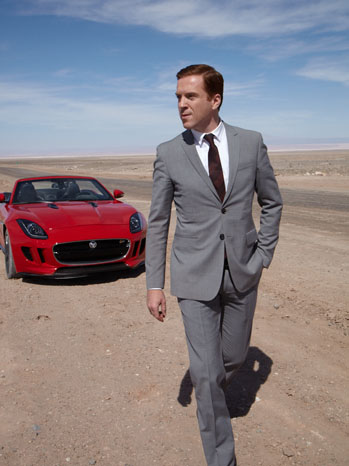 The Emmy winner tells THR about his Sundance London collaboration with the automaker and his decision to put a humorous spin on the Bond-esque hero: "There's not a lot of comedy in Homeland."
The kind of TV affection that Damian Lewis has earned since Homeland premiered tends to come with a high-profile endorsement deal — preferably for an automaker.
Many of the of Emmy and Golden Globe winner's contemporaries are partnered with some of the big ones. Dexter star Michael C. Hall narrates Dodge ads, Mad Men's Jon Hamm is the voice of Mercedes-Benz and co-star John Slattery can frequently be seen behind the wheel of a Lincoln.
But Lewis strays from the pack in his elaborate production for Jaguar. He doesn't provide a voice over, and you won't see 30 second spots airing during ad breaks for SportsCenter. Lewis' Jaguar commercial is a 12-minute movie produced by Ridley Scott's advertising company.
Desire, being screened as a part Sundance London's 2013 programming, premieres in its official venue, YouTube, on Wednesday.
"It sort of fell into my lap," the London-born actor tells The Hollywood Reporter. "I've never done anything for the online market before, and I just thought it was cool to work with Ridley Scott and [director] Adam Smith. I thought the script had a kind of nod to the Americana that you find in the Coen brothers' movies."
He goes on to state,
"When Jaguar approached me about the F-TYPE Desire film I was really intrigued. I then got to read the script and decided it was definitely a project I wanted to be a part of. Working with the director Adam Smith from Ridley Scott Associates, it promises to be an adventure. Jaguar cars have played some iconic roles in film for many years and I'm looking forward to being the first to drive the F-TYPE in film."
In Desire, Lewis plays Clark, a man who encounters difficulties in his attempts to deliver a Jaguar F-TYPE to a rather shady man who's at odds with a mysterious young woman (Shannyn Sossamon). The lawless, Coen-esque desert depicted film required a five-day shoot in Chile for Lewis — who says he had a somewhat lighter read of the character that some might be quick to brush off as a James Bond homage.
"I thought he had quirky voice and actually I might have pushed comedy a bit further because I found him as sort of a comedic character," says Lewis. "At times there's an oddly hapless quality to him, and I quite liked that. He wasn't just a stereotypical monosyllabic hero. I think I went a little bit to Cary Grant, David Niven and these famous British movie stars of the past. There's something very British about them which I tried to evoke."
That humor is another thing Lewis' says attracted him to the project. His next film credit is Lord Capulet in a new adaptation of definitive downer Romeo and Juliet, and as Lewis is quick to point out: "There's not a lot of comedy in Homeland."
Those more familiar with Lewis' biggest U.S. credits — Homeland, NBC's Life, HBO's Band of Brothers — also get the less common sound of the actor's natural accent throughout the short. Though what couldn't be further from London is Desire's South American locale.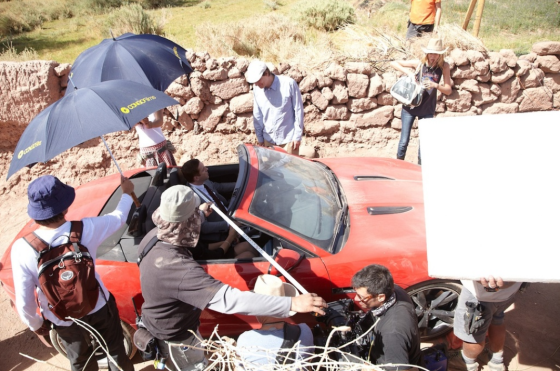 "It's dry as hell," says Lewis, who's grown used to Homeland's humid North Carolina set. "Dust and sand and dirt get into your eyes, and your lips crack. As a redhead, I stood there occasionally thinking, "Wow, I really wasn't designed for the desert.' But it is an extraordinary landscape to shoot in."
Soundtrack to the film has been written by singer songwriter Lana Del Rey who penned an exclusive track entitled 'Burning Desire.'
View more images in our Gallery here. Enjoy the full short below:
Primary Source: The Hollywood Reporter
Secondary Source: Daily Mail