All Revved Up: Damian Lewis Stylishly Delivers in Jaguar's Short Film Desire
by Michael O'Connell | Hollywood Reporter | April 24, 2013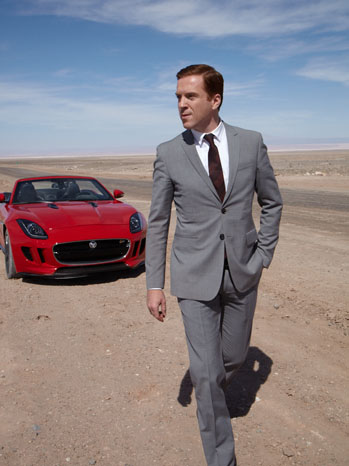 The Emmy winner tells THR about his Sundance London collaboration with the automaker and his decision to put a humorous spin on the Bond-esque hero: "There's not a lot of comedy in Homeland."
The kind of TV affection that Damian Lewis has earned since Homeland premiered tends to come with a high-profile endorsement deal — preferably for an automaker.
Many of the of Emmy and Golden Globe winner's contemporaries are partnered with some of the big ones. Dexter star Michael C. Hall narrates Dodge ads, Mad Men's Jon Hamm is the voice of Mercedes-Benz and co-star John Slattery can frequently be seen behind the wheel of a Lincoln.
But Lewis strays from the pack in his elaborate production for Jaguar. He doesn't provide a voice over, and you won't see 30 second spots airing during ad breaks for SportsCenter. Lewis' Jaguar commercial is a 12-minute movie produced by Ridley Scott's advertising company.
Desire, being screened as a part Sundance London's 2013 programming, premieres in its official venue, YouTube, on Wednesday.
"It sort of fell into my lap," the London-born actor tells The Hollywood Reporter. "I've never done anything for the online market before, and I just thought it was cool to work with Ridley Scott and [director] Adam Smith. I thought the script had a kind of nod to the Americana that you find in the Coen brothers' movies."