Unveiling Historic Mansion's Renovation
by David Higgs | Wales Online | May 25, 2013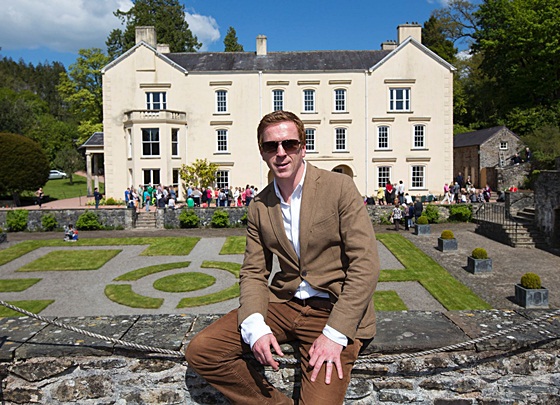 He's the Hollywood A-lister more accustomed to the red carpet than life in rural West Wales.
But yesterday Homeland star Damian Lewis was the star attraction at a tiny Carmarthenshire village, where he spoke proudly of his Welsh heritage. The Emmy and Golden Globe award-winning actor was present to officially open the Aberglasney Mansion at Llangathen, near Llandeilo.
The 42-year-old, whose grandparents were both Welsh, has links to the area having been a regular visitor since his youth.
"We've actually had a house down here in the area for 30 years," he said. "My father is Welsh through his blood line and I support the Welsh rugby team, otherwise he would have taken the belt to me. "My wife Helen has a Welsh speaking mother that lives in Cardiff and she has a grandfather who was the Welsh boxing champion no less, Bobby Morgan."
Lewis, a friend of local artist William Wilkins, cut the ribbon to mark the official opening of the mansion since its £600,000 restoration.
"One of the things that I learnt being here was what an extraordinary amount of hard work has gone into, first and foremost, the garden, which was really initially the area of historical note," he said.
Yesterday's event came 14 years after the gardens opened to the public and is the latest milestone in a remarkable transformation of the historic site.
"I love coming to Wales," added Lewis. "My father is 100 percent Welsh. On both side of his family, like so many of the Welsh did, they went across to Liverpool and Birmingham looking for work and all fell into Welsh communities and all married each other. "My grandmother was a Welsh speaker. It's in the blood."
Source: Wales Online