No Place Like Homeland
by Staff | Vogue | January 20, 2015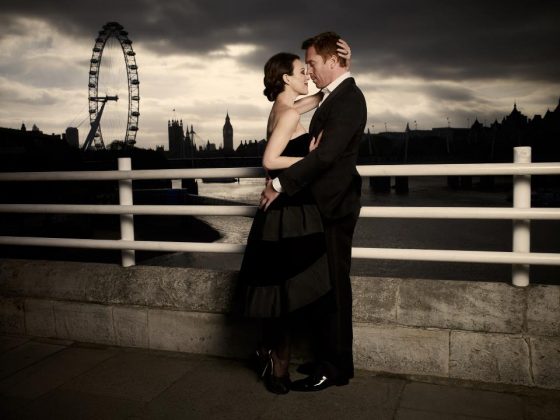 "Do you know, I think you might wear a suit better than any man I've ever met." In the intimate and strangely forbidden confines of a lift at the National Theatre, Helen McCrory's heavily made-up hazel eyes are drinking in her husband's tall, tailored frame.
"Thank you," he replies, faintly awkwardly, looking down at the same Tom Ford tuxedo he wore to accept the best actor Emmy award only last month. "Does this mean you want me to do all the washing-up for a week?"
A gypsy laugh bubbles up from deep inside McCrory's tiny dancer's body.
"No, my darling, of course not! Just the bedtime stories…"
It's a rare day of togetherness and, despite a stoic, unwaveringly professional determination to get the photographs absolutely right – freezing winter winds notwithstanding – Mr and Mrs Damian Lewis are enjoying every minute of this short holiday from work and the parenting of their two children, Manon, six, and Gulliver, five. Curling herself into her husband, McCrory locks eyes with him as he puts a protective hand between her shoulder blades and gently rubs her slender back. They seem in a little world of their own on the top of Waterloo Bridge, talking quietly and constantly to each other, oblivious to both the photographer's lens and the gawping Londoners who keep falling into the traffic in their astonishment at getting a real-life Homeland fix in the middle of the week. When one frazzled woman with a pushchair stops dead in her tracks between the couple and the camera and stares, open-mouthed, at the nation's favourite redhead as if he were a painting, they laugh tolerantly until she manages to pull herself together. This, after all, is their reality. And, for a couple who were recently invited to a state dinner for David Cameron at the White House and were sat not, as they had suspected, somewhere "between the kitchens and the loo" but on President Obama's table, nothing is terribly surprising.
"He did, yes. Yes, he did. He did say it was his favourite programme," Lewis later admits, between hungry mouthfuls of chicken stew and gulps of red wine in a nearby South Bank brasserie.
It's a public-school thing apparently, this speed-eating. And presumably that's where the awkward modesty comes from, too; an Old Etonian awareness of the vulgarity of boastfulness. Always deflate the situation, Lewis's upper-class upbringing appears to have taught him, with a healthy dose of self-deprecation: "Oh, I'm quite sure everyone will go off Homeland soon. When it gets to the seventh series and Claire Danes and I are like a twisted version of The Waltons, living in the middle of nowhere with our seven ginger children."
Lewis is never more than a few sentences away from a joke – "a great sense of play", according to his Homeland co-star Claire Danes – and it falls to his wife, three years his senior at 44, and herself a master in the art of the deadpan ("The really good thing about having babies, as I did, when you're 75 is that you've had a chance to establish your career first"), to gently praise his achievements. Thus, when Lewis admits how eaten-up he would have been if he had turned down the television show and watched another actor enjoying the heady levels of success he is currently experiencing, she puts a firm hand on his arm and purrs: "But darling, the point is that it wouldn't have been so brilliant if you hadn't done it."
Even if you don't happen to be one of the millions of people who describe Homeland as the greatest, edge-of-your-seat television show of the modern era, you have to admit that McCrory is right. Lewis's Brody is a masterful creation; a soldier turned terrorist turned double-agent with an inscrutable inner landscape and a flawless American accent. So flawless, in fact, that fans who approach him – constantly, and with no regard for the fact that he might be in the middle of his lunch – can't quite believe he's English.
I was never interested in fantasies remaining fantasies. They were always so formed in my imagination that I couldn't not chase them
And for all its intrusiveness, and it is intrusive, McCrory looks on or sometimes doesn't look on at all, with a deft mixture of pride and disinterest. Because she, of course, is a hugely successful actor in her own right – a theatre great, most would say, with a very healthy television and film career to boot. "She's the real deal," says Richard Eyre, who directed her in a National Theatre production of Trelawny of the Wells, for which she won an Ian Charleson award when she was just 24 years old. "I've never seen her act and not been absolutely captivated."
McCrory had carved out her own rock-solid career well before 2003, when she met and fell in love with Lewis in the rehearsal room of Five Gold Rings at the Almeida Theatre (they played illicit lovers). In the nine years since they got together, she has given birth to two children (an exhausting 14 months apart), committed herself to spending a large chunk of what she calls "the Calpol years" being there for them, and still managed to make her mark in films like Harry Potter (Narcissa Malfoy), The Queen (Cherie Blair) and Skyfall (Clair Dowar MP). Just this summer, she earned rave reviews for her performance as Libby in Simon Beresford's debut, The Last of the Haussmans, at the National Theatre and is currently playing the lead role of Aunt Polly in next autumn's hotly anticipated prime-time BBC drama Peaky Blinders.
Is it a coincidence that this couple's respective, already well-established careers seem to have soared since they found each other? Is there something to be said (think Dolce & Gabbana, Simon and Garfunkel, Brad and Angelina – whatever you will) for the power of two?
"It was actually a PR person's idea that we got together," says Lewis, taking a thoughtful sip of red wine before putting an arm around his wife's shoulder and pulling her across the banquette towards him. "She's a Scientologist and I'm a Mormon."
"We've managed to create our own cult," drawls his wife.
You can easily see what attracted Lewis and McCrory to one another. They are equally charismatic: he more flamboyantly so perhaps, brimming over with husky-voiced, impeccably mannered charm; she more quietly, from a still, graceful centre flicked through with a silver tongue. Separately, they are engaging. Together, they are a little bit intoxicating.
And the crackle between them is tangible. "Oh, there was something in the air that was just extraordinary," remembers director Michael Attenborough of the rehearsal period of Five Gold Rings. "I witnessed two people falling for each other hook, line and sinker, which, of course, worked brilliantly in the play." For Gaby Dellal, who directed McCrory in the recent ITV production Leaving, in which she played a married woman who embarks on an illicit affair with a boy 20 years her junior, this happy marriage was something that had to be got past. "When we started rehearsals, I tried to talk to Helen about what it is to have an extra-marital affair, and she would say: 'But Gaby, it's hard for me to know what we are talking about. My marriage still feels like the first flush of a love affair.'"
Right now, it would appear that the couple are having the time of their lives. Whether it's gathering friends and family for picnics near their home in Tufnell Park, renting cottages and swimming with their children in the mountain streams a short drive away from the location of Homeland in North Carolina, spending an entire, heady day tasting wines in the Berry Brothers vaults under St James's or escaping to Paris for dinner, they are enjoying every glorious minute. And who wouldn't? Dancing the night away with Mick Jagger at the Met Ball, exchanging emails with Barack Obama, flying back from America to spend a surprise weekend with your children… These are the things that A-list memories are made of.
But, hold on, it's not all champagne and Chanel. "It's an amazing time and we are having fun," says Lewis, suddenly serious. "But making it work is not always easy."
Lewis and McCrory are, after all, simply living a high-octane version of the universal juggling act we are all trying to master. They have a live-in nanny, but make a concerted effort to dovetail their work, so that one parent is at home at all times. McCrory, particularly, has organised her career around the children's needs from the first. "It's got to be a damn good offer to coax me away from them," she says. "Which is probably why the projects I've worked on since they were born have been such interesting ones."
With his work on Homeland taking him to Charlotte, North Carolina, for five months of every year, Lewis is the one who feels that he is missing out more on his children's young lives.
The pain that this causes him is tangible. There is a tightening in his voice when he recalls a conversation with his son a few days earlier.
"I haven't even told you this," he says, looking at his wife with a furrowed brow. "I was talking to Gully about something completely different and suddenly, without even looking at me, he said, 'D'you know, Dad? When you're away, sometimes I look out of my bedroom window at night and I call your name, and I cry.'"
Suddenly, Lewis's jokes have dried up. "I wrestle with this. I wrestle with it," he says quietly. "Children like you being around, you see. They really just like you being around. I don't think there is any substitute for doing it well and just doing it right. And doing it right is just being there. And being good at it when you're there. No one's perfect, God knows, but being there is a good start."
On a practical level, Lewis does everything he can to ease the pain of parting. When a trip to Los Angeles coincided with Hallowe'en, he went out and bought an "absurdly scary" clown outfit, dressed up in it, and conducted a Skype call in costume. Last summer, while McCrory was performing in The Last of the Haussmans at the National, he had the children with him for a month, two weeks with her and two weeks without. "They think America is made of hot dogs and swimming pools which, let's face it, isn't far from the truth."
Although it crossed the couple's mind for a moment to go to live in America (Gulliver was born there during the two years that Lewis spent making Life), they feel committed to a life in London. "As much as we may look like power-hungry, mad people, we are very committed, first and foremost, to living our life," says Lewis. "And if you're going to live your life, where do you want to live it? LA is interesting but it's not one of the great places. It's an inferior city to London. And if I'm going to be five months of the year in North Carolina, then where do I want to be when I'm not there? The answer, very much, is London."
"To sustain a marriage in our world," says Michael Attenborough, who himself has been married for 28 years and whose parents, Richard Attenborough and Sheila Sim, have been married for almost 70, "you have to make very conscious and deliberate decisions. Both Damian and Helen are very sharp about holding on to the centre of their family and not letting go."
One of the main reasons the couple want to remain in England is that their own families – to whom they are very close – also live here. The daughter of a Glaswegian diplomat father and a Welsh mother, McCrory had a peripatetic childhood but came to boarding school in England when she was 15. Lewis, who lost his beloved mother in a car crash in 2001 (just as his career was taking off after Band of Brothers), was brought up in St John's Wood and is very close to his three siblings. Christmas this year will be spent at his brother's house with "hordes of noisy children". "And noisy adults, for that matter," his wife adds.
"It was always one of my fantasies," Lewis says. "The fantasy of the family. The happy, slightly chaotic, noisy family life. In a tumbledown house. Sunday roasts, and friends coming round, and walks with the dog – which we don't have yet but, by the way, is part of my fantasy. That fantasy was as formed in my mind as any other fantasy about falling in love with a beautiful, talented actress and whisking her off to Paris to propose. It was all very formed in my mind and I feel, I feel…"
"…happy with the way your plan has panned out?" laughs McCrory.
"Yes. Well, yes. Because I always pursued my fantasies. I was never interested in fantasies remaining fantasies. They were always so formed in my imagination that I couldn't not chase them."
At this point, Lewis is talking to his wife, who is gazing at him with that look of love again.
"Oh, God!" he laughs. "You're holding my hand. I feel like we're in a Rob Reiner movie."
"I feel like we're applying for a visa," says McCrory. "And the interviewer's going to say, 'I'm terribly sorry but the Foreign Office does not think that this is a legitimate marriage.'"
If it is almost too good to be true, this neat union becomes something much more normal as the interview tails off and the inevitable planning of the week begins. Tomorrow, it turns out, the nanny is having a day off ("I'm on duty," says McCrory). Which is fine, except that it means that she won't be able to come with him tomorrow night.
"Why? What's happening tomorrow night?" Lewis wonders.
"Jonathan Ross," she says. "I was going to come with you."
"Oh, but I haven't asked them if you can."
"No, no! Not in the Green Room. I just wanted to watch the recording."
"Oh, yes. Yes. That would be lovely, poppet."
"But I can't."
"Why not?"
"Because we've got no babysitter." McCrory looks at me conspiratorially, one exasperated mother/diary service to another. "But, never mind. I'll just stay in and watch you on the telly."
Mr and Mrs Lewis. Just exactly the same as you and me. Almost.
View the rest of the original article at Vogue