BILLIONS: Damian Lewis on his new Showtime series – Exclusive Interview
The actor talks his reunion with Showtime network
By ABBIE BERNSTEIN, AssignmentX, January 18, 2016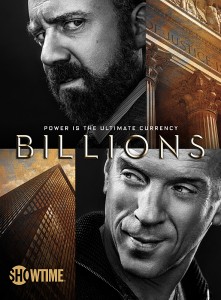 In Showtime Network's new drama BILLIONS, premiering Sunday, January 17 (the first episode is available for sampling on multiple platforms for free the weekend of January 15-17), Damian Lewis stars as Bobby Axelrod. Bobby, an up-from-the-working-class Wall Street hedge fund billionaire, is the king of his company. However, U.S. Attorney Chuck Rhoades, is making it his mission in life to take Bobby down.
The London-born Lewis is no stranger to Showtime, having spent three seasons on HOMELAND as deeply conflicted, captured U.S. Marine-turned-terrorist-turned double agent Nicholas Brody, a role that earned him a Lead Actor Emmy Award. Since then, Lewis has played Henry VIII in the BBC/PBS WOLF HALL, which gleaned another Emmy nomination.
During a question-and-answer session for BILLIONS at Showtime's portion of the Television Critics Association press tour, Lewis agrees, to an extent, with a comparison made between King Henry and Bobby.
"I think the king analogy might be apt," Lewis says, "but I think they come from different places. I think what [BILLIONS co-creator] Brian [Koppelman] was saying is so important as well. I think to find any sort of general representation of an idea or a moral viewpoint in either Paul's character Chuck Rhoades or my character is only going to end up being misleading for people. I think what's going to be interesting about this story is specifically this story. So who will Bobby Axelrod turn out to be, and what is he prepared to do to retain power? I think the same argument will apply to Chuck Rhoades, and you'll see powerful men – kings, if you will – struggling to retain power within their kingdoms, maybe exert power over other kingdoms.
Read the rest of the article here.