Damian Lewis: 'Hedge-fund billionaires are misunderstood'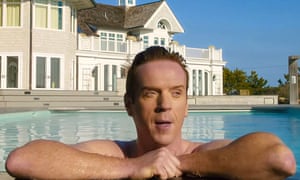 Damian Lewis as Bobby Axelrod in Billions – a man with working class roots … and an $84m mansion in the Hamptons.
Benji Wilson
Wednesday 11 May 2016, Last modified on Tuesday 5 September 2017
It's fun to spend an imaginary million or two. Damian Lewis's first purchase would be a private jet.
"That would be the first thing I'd buy, undoubtedly," he says. "Having been on a private jet only two or three times, it's one of life's great luxuries. I would do that. Then I might buy Liverpool football club."
This discussion has come about because in his latest TV drama, Billions, the actor plays Bobby Axelrod, a US hedge-fund gazillionaire with blue-collar roots, a passion for Pearl Jam and a fine line in cashmere hoodies. "It's almost like there's a new class of young billionaire," says writer David Levien. "They're 40, self-made, and casual in a way you don't see depicted in the media. These are guys who call their own shots, fly around in their own planes and seem to have the world at their feet."
The show sets Axelrod on a collision course with US attorney Chuck Rhoades, played by Paul Giamatti. Rhoades is convinced Axelrod is using illegal insider trading and vows to bring him down. Over 10 episodes, the two titans – one in the public sector, one in the private – go at it like Foreman and Ali.
But Billions is more nuanced than just a slugging match. Lewis's Axelrod – like most of his characters – is smoothly inscrutable. He genuinely seems to be a family man, grounded in a working-class background (to the extent that you can be while buying $84m mansions in the Hamptons).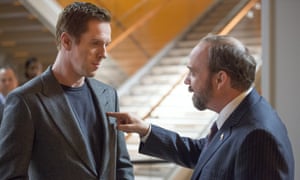 Read the rest of the article at the Guardian