How Homeland Star Mr. Damian Lewis Struck Gold for a Second Time with Billions
by Mr. Simon Mills | Mr. Porter | February, 2017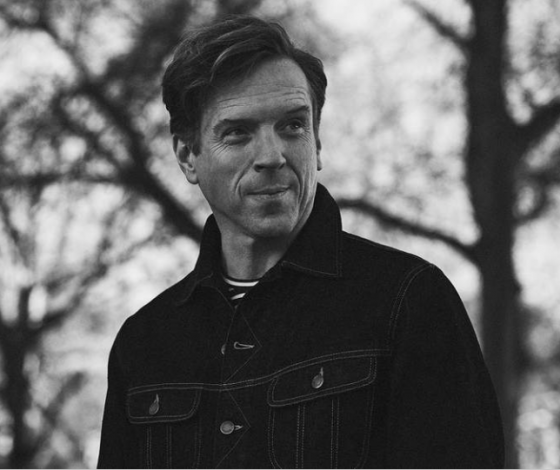 Photography by Mr Jon Gorrigan
Styling by Ms Eilidh Greig, Fashion Editor, MR PORTER
He's a truly transatlantic citizen, is Mr. Damian Lewis. A nationality-fluid, dual persona – a true Brit for half the year and an Uncle Sam adoptee the rest of it. He may have been born in north London, educated at Eton College and served his time at the Royal Shakespeare Company, but when filming scenes as Marine Sergeant Nicholas Brody in Homeland or, more recently, as hedge fund hustler Bobby Axelrod in the Showtime series Billions, the Style Council member embeds himself culturally and linguistically in North American life – goes to ball games, wears "sweats" and "sneakers" and calls women (ironically) "broads".
The accent he adopts for the character he's playing isn't dropped when the filming stops. He keeps it going when talking to the crew and catering and stays in full American drawl for interviews, taxi rides, grocery shops and restaurant orders. Really good actors can do this kind of thing. Mr. Lewis says it helps him focus on the roles in hand and puts everyone at ease on set. Jumping in and out of accents, he says, would feel "awkward". But not everyone is impressed. "I once did a US TV interview in my American accent and somehow it was seen by quite a few of my friends back in England. There were several irate text messages. 'You're British. Stop talking like an American!' It has become second nature to me now and I am happy to do it," he shrugs. "That said, if I am with Brits, I come out of it pretty quickly."
What about his kids? "I don't do it in front of them. They once spent a school term in the US and they started copying the accent in this comical, exaggerated way, elongating their vowels. I put a stop to that. My wife has a horror that the children will start talking American if we spend too much time out there." The rest of the US, however, remains convinced (even former president Mr. Barack Obama is a Mr. Lewis fan because of Homeland). "Well," he says with a cheeky smile, "I seem to have got away with it so far."
Today, Mr. Lewis is very much all-England, dressed in Belstaff and shod in Northampton leather, meeting MR PORTER for lunch at The Groucho Club in Soho, agonising over the menu. After some deliberation over a beetroot and leaf side ("Ooh, spaghetti pomodoro and a salad – we could be on the Amalfi Coast"), London Mr. Lewis kicks in and plumps for the fish and chips with mushy peas and a blokey squeeze of ketchup. Stateside Mr. Lewis with his buff abs and tight T-shirts probably wouldn't do that.
The talk turns to Savile Row tailoring – he's partial to a bit of Huntsman and Burberry – and his actress wife Ms. Helen McCrory once commenting that he carries a suit better than any man she knows. Then football. At 46, he is fit enough to turn out "irregularly" for five- and eight-a-side teams near the north London home he shares with Ms. McCrory and their two children, Gulliver and Manon. He looks healthy, keen and investable; with impressively performing products such as Band Of Brothers, Wolf Hall and The Forsyte Saga in his portfolio, Mr. Lewis is the thespian equivalent of blue-chip stock.
We discuss hedge funds – the fiscal chicanery of hostile takeovers, virtual bets, asset stripping and short sells. It's a subject that baffles outsiders and non-billionaires, but Mr. Lewis has equipped himself with a clear, working understanding of the world occupied by his carnivorous Billions character Bobby. Did he know all this before or did he find out? "I researched it," his natural voice eloquent, rasping and gently commanding. "I do play football with a hedge funder, but it is quite difficult to find someone who can explain it to the layman. I discovered that hedge funders are natural gamblers, basically. They are predators… and no one is safe. I learnt that all the CEOs of the big companies have these red Batman phones on their desks and they are waiting for one of these guys to call on it and say, 'Your numbers are all wrong and we're coming in'. It is scary."
In the show, Mr. Paul Giamatti's character Chuck Rhoades likens Axelrod to "Mike Tyson in his prime. And you do not want Mike Tyson in his prime." Mr. Lewis nods in agreement. "Bobby is an alley cat. A blue-collar kid who attended a mid-range university, but is street smart. He is an outsider, not Ivy League, or particularly well read… He's an autodidact. Probably devoured a lot of business self-help and finance books on the way up. The character is written in a very bullish manner, full of bravura. Scenes escalate in aggressive, alpha-dog style."
One Billions sequence finds him diving into an outdoor swimming pool, stark naked. "I guess I am conscious of being more buff when I am in New York," he says. "It's right for the role. There exists in the US a certain type of controlling, blue-collar male who is all muscles, pumped up and worked out. You know, a man is a man," Mr. Lewis says in full, American buffalo-ese. "Build a barn. Go logging. Of course, men who are stuck in the city are unable to do those things so they go to the gym. I am not that guy. I am a coat hanger normally. If I want to get bigger I have to work at it."
Axelrod's carefully chosen, macho but mostly dress-down wardrobe reflects his status. He wears plain bits of Y-3, Brioni, a discreet Cartier watch and regular Puma footwear. In one memorable scene, he cuts a multimillion dollar deal for the patronage of a major art gallery… while wearing drainpipe jeans and a Metallica tour T-shirt. "We talked a lot about the way Bobby should look," says Mr. Lewis. "That culture of hoodies and sneakers has existed in the dot.com world for a while now, but you get it in the hedge fund world, also. Someone such as Larry Robbins [founder and CEO of the Glenview Capital Management hedge fund with approximately $9.2bn of capital under management] wears sweats and tracksuits all the time. The opposite is Dan Loeb [CEO of Third Point LLC, whose portfolio is said to be worth $10.8bn], who lives in Tom Ford tailoring.
"The clothes that Bobby wears are something of a uniform, but they are prowling and athletic – easy to move fast in. And that feels right. Him not wearing a suit and tie shows great confidence. Shows that he isn't established. That he's very much outside the New York class system and its aristocracy of old European industrialist families. With Bobby, money is king."
He feels more at home with the pace and energy of contemporary television than Hollywood. "I just decided that the most important thing was story and script." Playing Agent Brody in Homeland, he says, was a stroke of luck. "It wasn't particularly hyped by the channel. It just kind of took off after the first episode and everyone was talking about it."
Modern TV, he is at pains to stress, is old-fashioned hard work. "A show like Billions means extraordinarily long hours. You get a 60-page script every week. You have to get learning it immediately. You are doing 60- or 70-hour weeks. The turnover is relentless and everyone is working flat out. There's no time for a beer when you've wrapped for the day because you are exhausted."
A certain Mr. Hugh Laurie failed to warn him about this. Back in 2007, Mr Lewis discovered that he had purchased the Tufnell Park, London, home formerly owned by the House, Veep and The Night Manager actor. Since their career trajectories were looking fairly similar, Mr. Lewis tracked him down.
"I called him and said, 'I know this is weird, but I have just bought your house and I am sitting in your bedroom.' I asked for his opinion on this TV show I had just been offered [NBC's ill-fated Life].  He was very diplomatic and encouraging. 'You should go for it!' he said. So I did."
"Every single person I spoke to afterwards told me that Hugh had been utterly miserable doing House. That the hours were outrageous, that it was impossible to learn the lines, that he didn't have a life any more."
Didn't that put him off? Mr. Lewis wipes chocolate mousse off his lips and relaxes into The Groucho's corner banquette. "Not at all," he says suddenly becoming less London Mr. Lewis and more American Axelrod. His character, he reminds you, is "a billionaire, intuitive street fighter". He's got this.
To view more images, please visit our Gallery
Read the rest of the original article at Mr. Porter