Jackpot!
by Christopher Palmeri | Bloomberg | September 19, 2018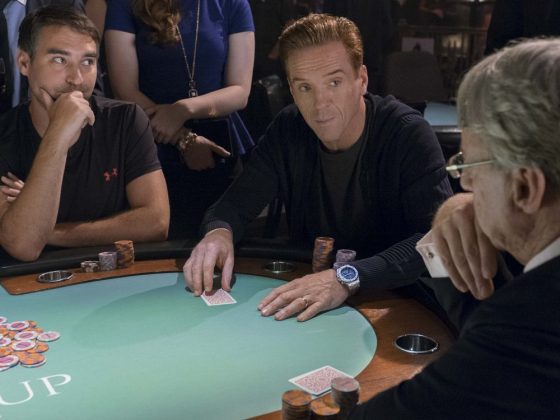 Bobby Axelrod, the fictional hedge-fund manager in the Showtime series Billions, is getting his own slot machine — something Gordon Gekko could only dream of. The high stakes world of the hit TV show Billions will soon be coming to casinos, thanks to a licensing agreement between Aristocrat, CBS Consumer Products, and Showtime Networks.
The game will feature the popular Mighty Cash™ feature, as well as a $500,000 progressive start-up jackpot, according to a statement Wednesday. It will be unveiled in booth #1141 at the Global Gaming Expo (G2E), the casino industry trade show that begins October 8 in Las Vegas.
According to Markets Business Insider,
"The Billions Slot Game is based on Season 1 and 2, which includes fans' favorite characters such as Chuck Rhoades, Bobby Axelrod, Wendy Rhoades, Lara Axelrod, and Taylor Mason.
The game appears on Aristocrat's revolutionary flame55™ cabinet. The flame55 is complete with a 55″ double-curved HD monitor – the largest portrait double-curved display in the non-jumbo segment – ergonomic engineering, 4k-capable display, 2.1 stereo audio, individually controlled dynamic infinity edge LED lighting, a virtual button deck, and an exclusive beacon sign package.
While the slot-machine industry has licensed movies and TV shows for decades, manufacturers and casinos often opted for older titles that appealed to the typically more mature players on casino floors.
Read the rest of the original article at Bloomberg
Secondary Source: Markets Business Insider