Billions Can Keep Going Forever
by Playlist Staff | The Playlist | December 19, 2018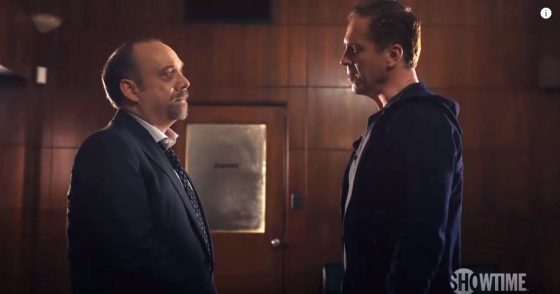 It was, as we've discussed already, a great year for movies. It was perhaps a less great one on TV, at least on the surface. There were more scripted shows than ever once again, but with some heavy-hitters skipping a year, and a few high-profile disappointments (Hi, "The Romanoffs!"), it was hard not to feel that the ageless TV vs. film debate came out of 2018 with a point on the movies board.
But all that said, if the thrill of the Peak TV years has perhaps worn off, there were still hours and hours and hours of greatness across multiple networks and genres in 2018. Some great shows got even better. Some new arrivals produced debut seasons that were among as promising as any in recent years. And there were surprises and hidden gems galore. Maybe it was a great year for TV, now we think about it.
Below you'll find The Playlist's 25 favorite shows of 2018, from Facebook-hosted grief dramas to animated satires to kids-on-the-run to existentially-wracked hitmen and more. Take a look at the list below, and let us know your own highlights in the comments.
17. "Billions"
In some ways, "Billions" should be out of step with the times. At a time, more than ever after the tax cuts introduced a year ago, when the wealthy are continuing to fuck over the rest of us, it's a show that's set almost exclusively among the insanely wealthy and semi-sociopathic, and one that doesn't exactly hate the lifestyles it depicts. And yet one of the miracles of Brian Koppelman and David Levien's show is that it never feels tone-deaf or celebratory — in fact, one suspects it'll be looked back on as perhaps the definitive show of the Robber Baron 2.0 years (we say perhaps only because of another show further up this list…). Season 3 didn't quite have the relentless forward drive of its predecessor, but it remains the best plotted and paced drama on TV right now, and one that seems to have a bottomless well of fascinating characters to introduce, from Clancy Brown's scenery-chewing Attorney General (basically what Jeff Sessions imagines himself to be when he closes his eyes) to Mike Birbiglia's socially awkward Muskalike. Showtime has something of a tendency to run their shows way past the point when they should have ended naturally (Fun fact: "Homeland" is still on! For reals!), but as far as we're concerned, "Billions" can keep going forever.
Read the rest of the original article at The Playlist