Billions Season 4 Episode Titles and Plot Synopses
by Gingersnap | damian-lewis.com | February 5, 2019 *UPDATED May 11, 2019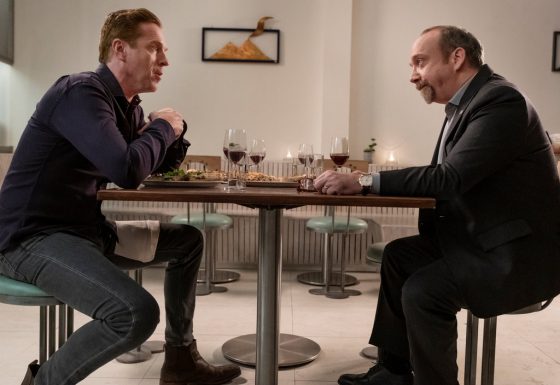 According to IMDB, these are the titles of all 12 episodes of the highly anticipated Billions season four. Here are the detailed plot descriptions and air dates:
S4E1 – Chucky Rhoades's Greatest Game (airs March 17, 2019 U.S.)
Season 4 begins with Axe closing ranks, determined to destroy Taylor. No longer U.S. Attorney, Chuck struggles to regain power. Taylor does what it takes to keep their new company afloat. Season premiere.
S4E2 – Arousal Template (airs March 24, 2019 U.S.)
Axe, still focused on wrecking Taylor and their new company, hits it off with a venture capitalist. Chuck sets his sights on a new position. Wendy asks Chuck to make a change.
S4E3 – Chickentown (airs March 31, 2019 U.S.)
Axe has to step in when a tip from Dollar Bill goes south quickly. Chuck faces a threat to his new career aspirations. Wendy and Axe develop a plan to derail Taylor's business. Taylor receives an important guest.
S4E4 – Overton Window (airs April 7, 2019 U.S.)
Axe Cap suffers an attack at a crucial moment. Taylor considers going into business with an unexpected partner. Axe asks for Chuck's help. Chuck makes a bold move to advance his own career.
S4E5 – A Proper Sendoff (airs April 14, 2019 U.S.)
Chuck begins work in a new position. Axe is surprised by a visitor from his past. Wendy deals with the consequences of Chuck's actions. Taylor goes after an organization that has a history with Axe.
S4E6 – Maximum Recreational Depth (airs April 21, 2019 U.S.)
Axe discovers a trap set for him by Taylor. Chuck and Wendy navigate marital issues. Wendy rekindles an unlikely friendship. Taylor pursues a new business venture. Connerty formulates a plan to go after Chuck.
S4E7 – Infinite Game (airs April 28, 2019 U.S.)
Axe and Wendy plan a new attack against Taylor. A favor Chuck did turns out to be a liability. Taylor makes a difficult choice for the good of their company.
S4E8 – Fight Night (airs May 5, 2019 U.S.)
Axe helps Rebecca with a business venture. Chuck faces off with US Attorney General Jock Jeffcoat. Taylor ignites a public battle with Axe. Wendy suffers a blow that could jeopardize her career. Axe Capital and Taylor Mason Capital compete in an unlikely arena.
S4E9 – American Champion (airs May 12, 2019 U.S.)
Chuck makes a dramatic move to help Wendy and Senior. Taylor goes after Axe by trying to sabotage someone close to him. Axe contends with difficulties at Axe Capital. Chuck reveals his priorities.
**no episode May 19**
S4E10 – New Year's Day (airs May 26, 2019 U.S.)
Wendy and Taylor each prep for a big day. Wags gets in touch with his sensitive side. Axe and Wendy's bond solidifies as he recalls a pivotal moment. Connerty reconnects with a figure from his past.
S4E11 – Lamster (airs June 2, 2019 U.S.)
Wendy weighs her options. Senior makes a shocking discovery. Taylor offers an unlikely solution to help their business. Chuck launches an attack at an enemy. Axe contemplates a risky move.
S4E12 – Extreme Sandbox (airs June 9, 2019 U.S.)
Axe makes a big decision. Connerty gets closer to the truth. Tensions rise, and dynamics shift. Season Finale
Overall season 4 plot: When everyone is out for revenge, no one is safe. Former enemies Bobby Axelrod and Chuck Rhoades, and Wendy Rhoades, the chief counselor to each, have come together to form an uneasy but highly effective alliance aimed at the eradication of all their rivals, including Grigor Andolov, Taylor Mason, Bryan Connerty and Waylon "Jock" Jeffcoat. All the characters find out exactly how high a price they'll have to pay to satisfy their ambition.