Fans of Royal TV
by Matthew Gilbert | Boston Globe | February 28, 2019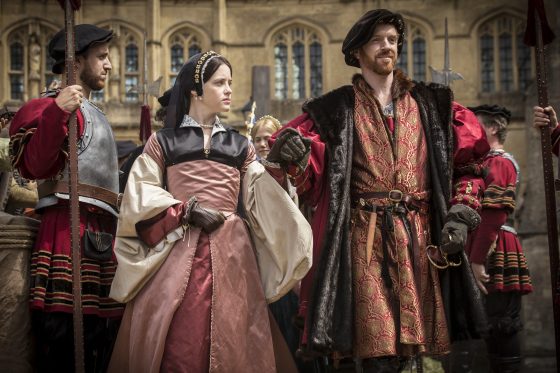 I'm a sucker for the royal dramas. They marry history to warped family dynamics, and they're generally quite pretty and transporting. They're like "Succession," HBO's Murdoch family send-up, except with a majestic makeover, more servants, and at least one crown. There's treachery, there are big castles, and at the center of it all there is the distorted psychology of a person who has inherited, not necessarily earned, a position closer to God than we mere mortals.
These shows are just what the Anglophile TV doctor ordered, a spot of tea as the cure for the uncountably many grim crime-solving dramas and superhero spectacles elsewhere on the schedule. For some viewers, royal dramas, like period novel adaptations, are too staid, too mired in the subtleties of their indirect exchanges to be entertaining. But for me, it's fascinating to watch lives constrained by rigid social and dynastic rules, as messy human needs struggle against ancient policies. Things can get ugly around the palace, for sure, but most of the time the messes are hidden behind an elegant veneer of dignity.
So I'm sad to see PBS's "Victoria" finishing up its third season on Sunday night, my weekly dose of pageantry gone for a year. The "Masterpiece" series is my happy place, where Jenna Coleman's queen — a mixture of modern working mother, stubborn ruler, and Glinda the Good Witch — holds court and faces down her half-sister, Feodora, played by Kate Fleetwood with the most dramatic facial expressions I've seen since Lady Gaga started winning awards.
And I'm extremely eager for the third season of Netflix's "The Crown," which is due sometime later this year. It's not as intimate of a portrait as "Victoria," but what it lacks in character drama is compensated by the opportunity to go behind the scenes of recent history. This time out, Queen Elizabeth will be played by Olivia Colman, who just won an Oscar for playing another monarch, Queen Anne, in "The Favourite." Queen Anne is the antithesis of Queen Elizabeth, so her transformation will be particularly interesting.
What are we fans of royal TV to do in the gap between the end of "Victoria" and the return of "The Crown"? Here are four of my favorites, in case you haven't seen them yet.
"WOLF HALL"
This six-part PBS "Masterpiece" miniseries from 2015 is mesmerizing, particularly as the cinematography is essentially fire-lit. Dark atmosphere, dark themes. Mark Rylance plays the fixer Thomas Cromwell — the 16th century Ray Donovan or Michael Cohen, if you will — to Damian Lewis's Henry VIII, who needs to annul his marriage to Katherine to marry Anne Boleyn (Claire Foy, in one of her best turns). Based on the novels "Wolf Hall" and "Bring Up the Bodies" by Hilary Mantel, it's drama that builds slowly — you need to be patient — but beautifully. Rylance is perfect, hiding all of Cromwell's thoughts and opinions behind his strategic exterior. Another plus: Jonathan Pryce, under-recognized for his work in "The Wife," as a great Cardinal Wolsey.
Available on Amazon, YouTube, and iTunes
Read the rest of the original article at Boston Globe