California Dreamin'
by Gingersnap | Fan Fun with Damian Lewis | July 27, 2019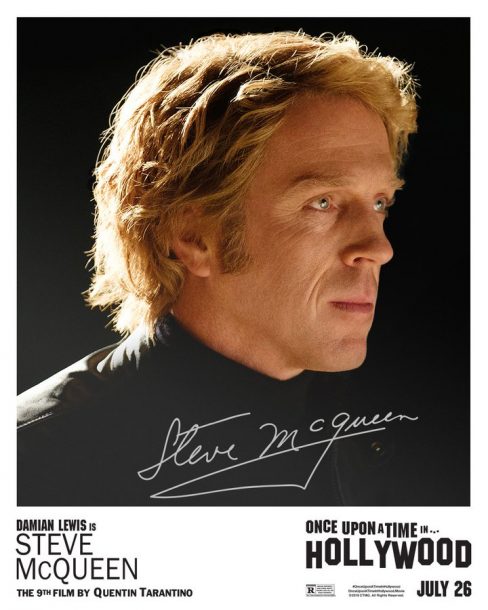 STOP. Do not read any further unless you can handle spoilers.
The day has finally come – the day when Damian Lewis plays Steve McQueen on the big screen. It's July 26, 2019 and I'm planning my early escape from work to see an 11:00 a.m. showing of Once Upon a Time in…Hollywood. I purchased my $8.72 matinee ticket online on July 17 around 4:00 p.m. and it has been burning the proverbial hole in my pocket ever since.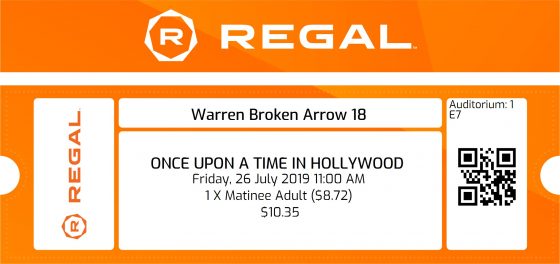 Fiddlesticks. I do not escape the office at the exact moment I had planned because my pesky co-workers, whom I adore, have thwarted my early getaway by chatting me up like it's Monday instead of Friday. For the entire conversation I do not compute what they are saying to me. It's like Charlie Brown's muffled teacher and all I can hear is that little voice in my head saying, "You're going to have to speed to get there on time." On the drive to the theater (going 68 mph in a 65 because I'm a chickenshit) I go over the plan of action rolling around in my head like a 35mm black and white film countdown on loop:
Park
Check-in
Pee
Popcorn
Anndddd loop…
I've arrived at my destination. I hastily park and immediately abandon the plan of action, inserting a step between park and check-in. Ahhh, the marquee. MUST GET PHOTO. A little foreshadowing here…Sharon Tate (Margot Robbie) does a similar bit in the movie.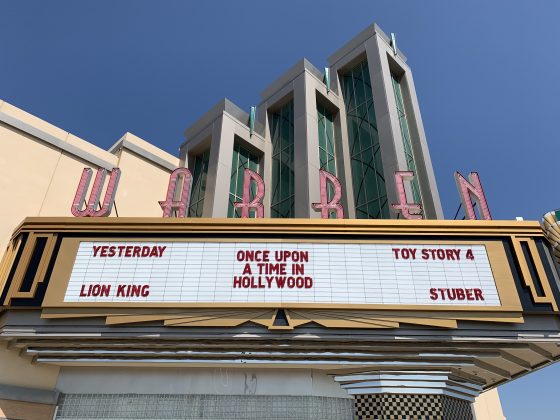 While you can show the usher your QR barcode and scan from your phone for entry, I want some memorabilia. I check-in at the front desk and request a hardcopy ticket, hoping and wishing it will look like the Hollywood premiere night tickets…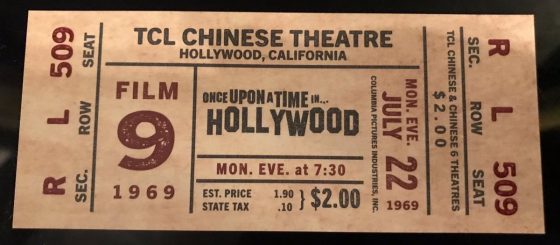 But I know better and settle for this remittance stub instead…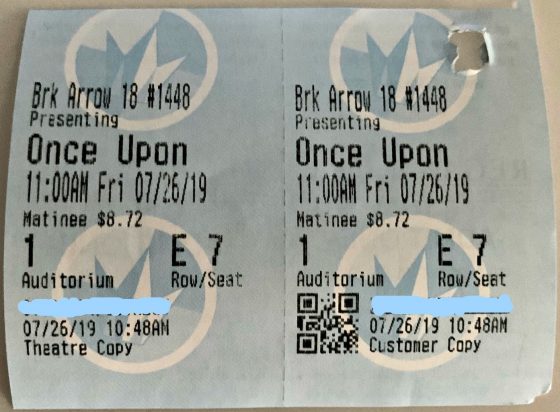 On to step three, restroom break. I know you hear me ladies when I say your weakened bladder from childbirth and/or age knows when you've stepped into a new place, be it a store, event, or theater and it demands to mark that territory immediately. I listen and obey since it's a three-hour movie if you count the previews and I'll be damned if I'm going to risk missing Damian's scene because of a tinkle tragedy.
I grab some popcorn and settle in for the previews. Like Sheldon on Big Bang Theory, I have "a spot" I favor in theaters – second to the last row, middle of the row. I prefer to see the screen in it's entirety while facing forward so I do not have to move my head from left-to-right like I'm watching a tennis match.
Blimey. My plan of action is shot to hell. I realize as I'm settling into the recliner that I have forgotten to prep my phone. It is very important my phone is prepped – you'll figure out why later 😉
I quickly set the popcorn in the empty seat to my right, reach for my phone in my bag, both mute the volume and silence it (two separate settings on the iPhone….why????), fumble quickly through the settings to disable 'lock screen' when not in use and decrease the screen brightness, then ready my phone in the empty cup holder to my left like Rick Dalton (Leonardo DiCaprio) slides a 6-shooter in his leather holster or Cliff Booth (Brad Pitt) slides a can of beer in his tool belt.
I'm ready. I have survived the additions to my original plan of action just in time for the theater lights to dim. However, a few kernels of popcorn did not survive.
Can I just say the previews seem to be one-degree of separation from Damian? Sure, us super fans see things and relate them to Damian in a way that no other person does, but still.
Tom Hanks will play Mr. Rogers in A Beautiful Day in the Neighborhood and I think to myself, "Tom Hanks. Band of Brothers. Damian." Playing opposite Hanks is Matthew Rhys and I think to myself, "Rhys, Wales, Damian." Followed by, "Rhys, The Americans, Noah Emmerich, Billions, Damian." Either way, I'll be seeing that movie this November!
Then a preview for Knives Out begins with captions like 'whodunnit?' and 'murder mystery.' I think to myself, "Whodunnit play. Damian." Playing the character Joni in the movie is none other than Toni Collette and I think to myself, "Collette. Dream Horse. Damian." Playing another character in the film is Daniel Craig. I think to myself, "Daniel Craig. Bond. James Bond. Damian."
Next up is a preview of The Kitchen about 1978 Hell's Kitchen housewives and I think to myself, "Hell's Kitchen. New York. Billions. Damian." I mean, Damian does live in New York about 5-6 months of the year, right!?!?! Also, don't forget Damian's character Axe on Billions is stored in Krakow's (Danny Strong) phone under contact name "Bullitt," which is a Steve McQueen movie. "Steve McQueen. Once Upon a Time in…Hollywood. Damian." See? Can't help it. Too bad Danny Strong's part in OUATIH ended up on the cutting room floor.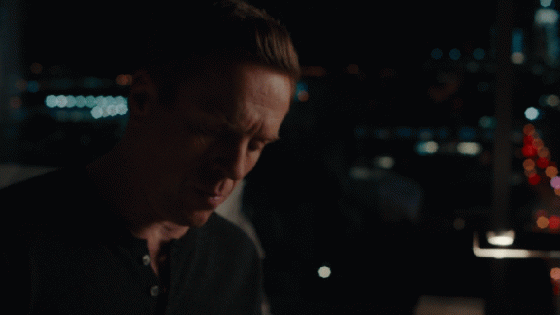 Enough of the previews. Here we go! Fasten your seatbelts, the movie has begun and it begins with opening credits. I fumble for my phone and snap a picture of Damian's orange name on the screen, which is superimposed on Roman Polanski (Rafal Zawierucha) and Sharon Tate (Margot Robbie) as they drive from the airport to their home located at 10050 Cielo Drive in Benedict Canyon.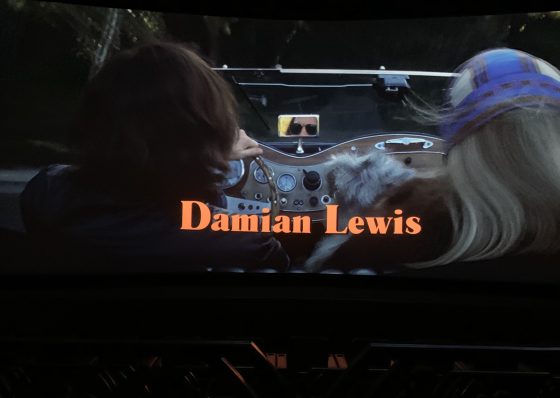 Other true life former residents of this homestead include Cary Grant, Henry Fonda, Doris Day's son Terry Melcher with Candice Bergen, in which Charles Manson visited the house during their occupancy, and Paul Revere & the Raiders. Throughout the movie Sharon Tate (Robbie) plays Paul Revere & the Raiders vinyl records in the home.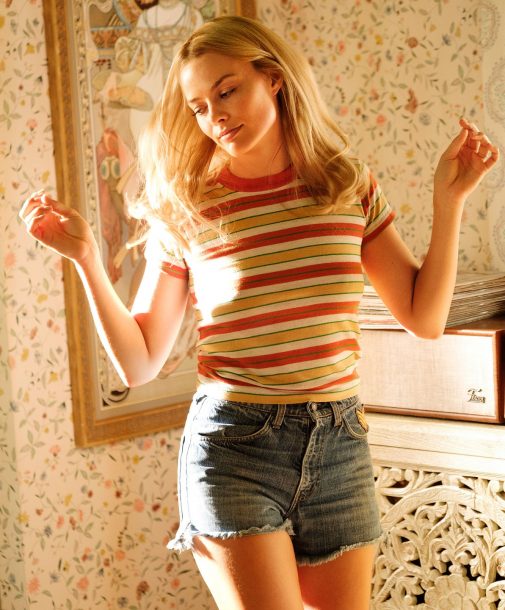 It's February 8, 1969 as Polanski and Tate head out to Hugh Hefner's Playboy Mansion party where, unbeknownst to us the audience, Steve McQueen and Jay Sebring await their arrival.
I recognize the large gated driveway that sweeps through a petite redwood grove before it circles up around a huge water fountain at the front of the mansion. The camera pan during the drive is brilliant in that Tarantino makes you feel like you're in the backseat.
This is it. I know Damian's scene is at the Playboy Mansion from social media – clue number one – and yet I am still surprised how quickly his scene is before my eyes, about 49 minutes in. I hurl my popcorn to the empty seat to my right, grab my phone and watch through my camera. I scan the partygoers for Damian and hone in on the back of this tall, slender-framed man in white jeans who is standing off in the distance with two others next to that famous circle drive. I'd recognize Damian anywhere in a crowd.
McQueen is flanked by Michelle Phillips and Jay Sebring. A black crew neck pullover under a black leather jacket complements McQueen's white jeans. Polanski and Tate's car approach the three, Tate bounces from the car over to McQueen, his arms open wide as he says: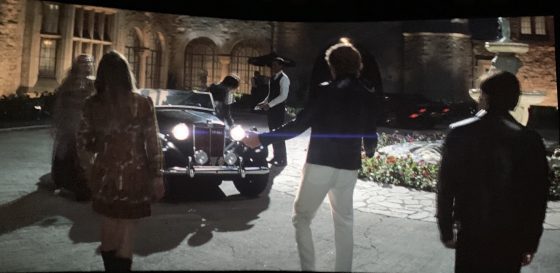 "Heyyyyy, how you doin' baby?"
They hug, he picks her up and twirls her around in the air.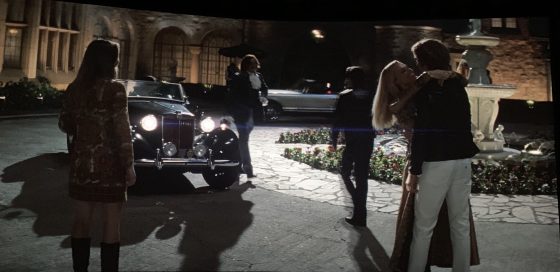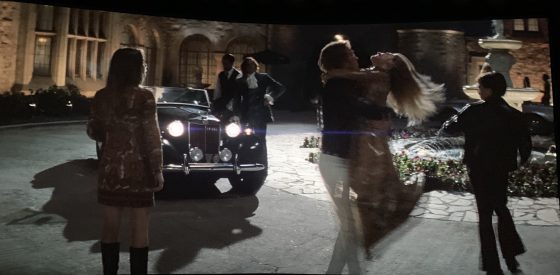 Tate replies,
"Hey, [giggles] how are you?"
After McQueen greets Sharon, she happy-hops over to the dance area as he lights up a cigarette (or a joint?) and watches her dance carefree from afar.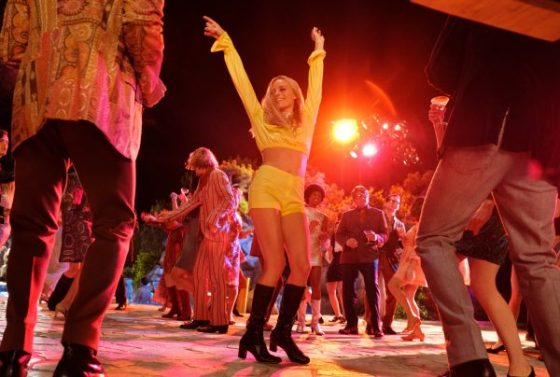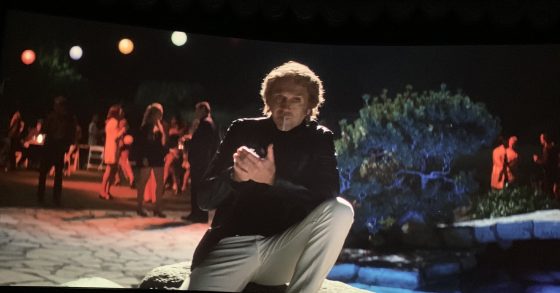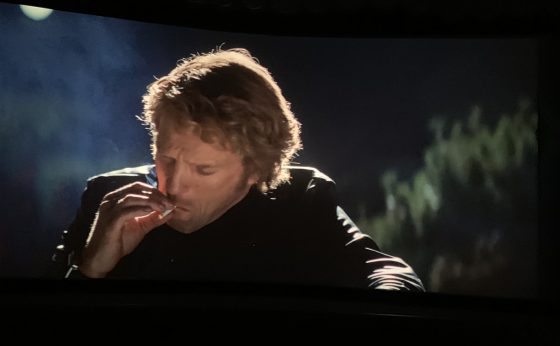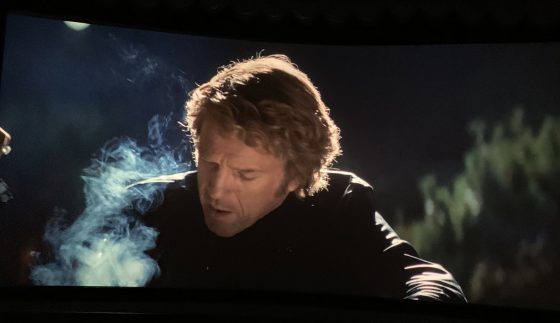 McQueen and a female partygoer (Dreama Walker as Connie Stevens?) continue to people watch together as he points and explains to her the sordid Hollywood relationships that are all within three feet distance from one another. Gossipy McQueen indeed.
Read the rest of the original article at Fan Fun with Damian Lewis