2020 Sundance Film Festival
by Gingersnap | damian-lewis.com | December 4, 2019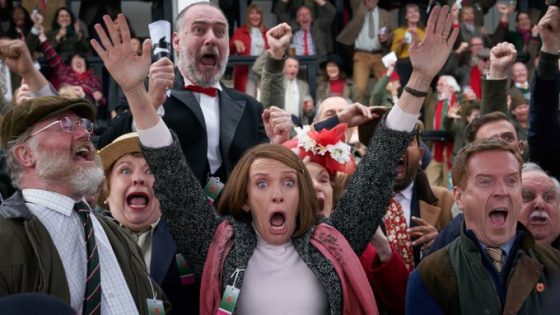 The nonprofit Sundance Institute announced the showcase of new independent feature films selected across all categories for the 2020 Sundance Film Festival. A total of 118 feature films in all!
Of the showcase of premieres, Dream Horse starring Damian Lewis and Toni Collette, is among some of the most highly anticipated narrative films of the coming year and will receive it's world premiere at the festival. The film has already been purchased by Bleecker Street, according to Indiewire.
The festival hosts screenings in Park City, Salt Lake City and at Sundance Mountain Resort, from January 23–February 2, 2020. The Sundance Film Festival is Sundance Institute's flagship public program, widely regarded as the largest American independent film festival and attended by more than 120,000 people and 1,300 accredited press, and powered by more than 2,000 volunteers last year.
Here are the dates you can see the premiere of Dream Horse at the festival:
Friday, January 24 at 8:00 p.m.
Rose Wagner Center
Saturday, January 25, 2020 at 12:00 p.m.
The Ray Theatre
Thursday, January 30, 2020 at 9:00 a.m.
Temple Theatre
Friday, January 21, 2020 at 9:30 p.m.
Rose Wagner Center
Saturday, February 1, 2020 at 6:00 p.m.
Temple Theatre
Runtime: 102 minutes
Description:
Dream Horse / United Kingdom (Director: Euros Lyn, Screenwriter: Neil McKay, Producers: Katherine Butler, Tracy O'Riordan) — Jan, a cleaner and bartender, decides on a whim to breed a race horse in her Welsh village. As the horse rises through the ranks against all odds, Jan and the townspeople are pitted against the racing elite in a nail-biting race for the national championship. Cast: Toni Collette, Damian Lewis. World Premiere
Extended Description:
In a sleepy working-class community, Jan Vokes (Toni Collette) struggles to find meaning in her life while waiting tables at the local pub. One night, a chance encounter with an arrogant customer, Howard Davies (Damian Lewis), a former racehorse syndicate leader, inspires her to take on a new challenge. Despite her parents' skepticism, Jan recruits neighbors and barflies alike into a crazy scheme to contribute to a community fund and breed a racehorse. After a rocky start, Dream Alliance—the horse and the syndicate—is born. After the horse wins one race after another, the syndicate's success enriches the lives of all its members, giving them a sense of purpose they had never imagined before.
Welsh director Euros Lyn translates this miraculous underdog story, which was the subject of the 2015 Sundance Film Festival feature Dark Horse (World Cinema Documentary Audience Award), into a dramatic narrative by heightening the tension both on and off the track. Toni Collette inspires as the strong-willed Jan, while supporting performances by the motley crew of fellow racehorse owners infuse the film with warmth and humor.
For more information about Dream Horse tickets and showtimes at Sundance, please visit here.
For more information about the Sundance Film Festival, please visit here.