Homeland Makes All the Decade Lists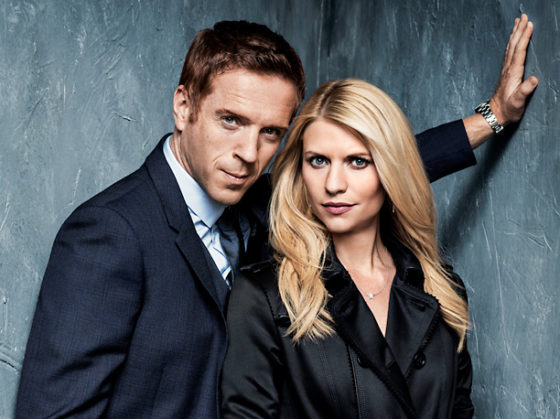 Political Comedy, Drama Defined the Decade
by Hal Boedeker | Boston Herald | December 31, 2019
It was the decade of Game of Thrones, peak drama, political comedy and superhero films. Here are a few works that defined 2010-19. Showtime's Homeland started explosively with a twisty story of treason that still resonates in the culture. Claire Danes and Damian Lewis were exceptional. The final season begins February 9, 2020. The way that films and TV series are shown may change, but first-rate storytelling cannot be replaced. On that score, the decade offered reasons to hope.
Decade Disruptors: The 10 Most Influential International TV Shows Of The 2010s, From Hyper-Local Thrillers To Euro Entertainment
by Peter White | Deadline | December 31, 2019
The 2010s was the decade that foreign-language television broke through the global ceiling and got Hollywood to notice the quality of content coming from all corners of the world. While Danish drama The Killing (Forbrydelsen) and French thrillers Braquo and Spiral began inching the door open in the "aughties," hyper local titles and the booming streaming market means that Netflix subscribers are just as likely to binge Spanish drama La Casa De Papel (Money Heist) or German supernatural thriller Dark as they are the new season of The Crown.
Netflix's VP International Originals Kelly Luegenbiehl recently told a London conference that "Hollywood is not the be-all and end-all of storytelling," and "this is really just the beginning." Georgia Brown, European content chief at Amazon, agreed that "language is kind of irrelevant now." It's not just the SVODs that are helping this boom; linear broadcasters around the world have realized that specifically local titles stand more chance of becoming hits than global puddings. Many broadcasters, such as European public stations France Televisions, Italy's Rai and Germany's ZDF, are also teaming up to match the budgets of the streamers.
Below, Deadline has put together a list of 10 of the most influential foreign-language series and international formats of the decade (in alphabetical order).
Hatufim / Prisoners of War / Homeland (Israel) Israel has become a hotbed of international drama, a trend that started with the success of Keshet's Hatufim (Prisoners of War). The series was adapted as the Damian Lewis- and Claire Danes-fronted Homeland, which is heading into its eighth and final season for Showtime. The original series, which premiered on Israel's Channel 2 in 2010, told the story of three Israeli soldiers who were captured 17 years ago while on a secret mission in Lebanon. Created by Gideon Raff, who went on to create FX's Tyrant and Netflix's Sacha Baron Cohen-fronted miniseries The Spy, the Israeli version sold to over 65 territories including Hulu in the U.S. and Sky in the UK. In addition to its Showtime remake, produced by Fox21 Television Studios, it has been remade in India via Star TV, which aired 126 episodes, and the format was sold to Russian broadcaster Rossiya 1. Raff told Deadline that he was "humbled" that the show traveled so widely and "transcended geographical and language barriers," "It shows how art has the power to bring us together," he added. Avi Nir, CEO of Keshet Media Group, the company behind HBO's Our Boys, added, "I would highlight how quickly we moved from hearing Gidi's pitch and, recognizing his unique story and voice, to reading the script and to producing the show. I'd also like to point out that we acknowledged the controversial aspects of the show but they didn't deter us. The show's artistic merits were our focus and our assurance."
The Best TV Shows of the Decade
by Staff | IGN | December 31, 2019
To say the TV landscape has changed in the past decade is the understatement of a lifetime. With the boom of streaming services and rise of quote/unquote Peak TV, there are literally more TV series being released in 2019 than there are days this year. But looking back at the last 10 years, it's easy to see why: The medium of television is delivering some of its best content ever, even rivaling film in terms of quality and execution.
So your friendly neighborhood IGN entertainment team took on the daunting task of narrowing down what we consider to be the best 100 TV shows of the past 10 years. But a few things to keep in mind before we begin: This is not a ranked list, but rather just the 100 TV shows we thought were the best of the decade. As such, we've listed the shows by year, and then by alphabetical order within each year. That said, please be sure to let us know what you think of our picks, and what faves of yours didn't make our list! So without further ado, here are our picks for the 100 best TV shows of the twenty-tens.
The first season of Homeland is a tightly constructed spy thriller in which CIA agent Carrie Mathison senses something's not right with recently rescued POW Nicholas Brody. Claire Danes does outstanding work as Mathison, showing her as doggedly determined but also an unpredictable loose cannon due to her own secret psychological problems. Damian Lewis makes sure you never know what to think of Brody, and Mandy Patinkin's warm but authoritative Saul Barenson fiercely defends Carrie from within the Agency. It's a tough act to follow, but later seasons do a respectable job of keeping Carrie on her toes with an array of complex terrorist plots and personal demons that have kept Homeland compelling over eight labyrinthine seasons.
The 35 Best TV Shows of the 2010's
by Emma Dibdin | Harpers Bazaar | January 31, 2020
Happy new decade! Now that 2020 is officially upon us, there's never been a better time to cast a look back over the 2010s, which were a deeply transformative time for television. The dawn of the streaming era brought with it Peak TV, which in turn brought that ever-present feeling of crushing guilt about all the shows you haven't had time to watch and likely never will. Below, we've rounded up 35 of the greatest shows of the decade—in case you're trying to decide what to catch up on.
#9 Homeland
Showtime's twisty CIA drama made a splash back when it debuted in 2011, focusing its paranoid story on the cat-and-mouse game between an unstable agent (Claire Danes) and the war hero she suspects is a terrorist (Damian Lewis). After that story ran its course, the show reinvented itself with impressive ease to focus more exclusively on Carrie, and became a gripping show about the moral and emotional costs of serving one's country.