Accidental TV Actor
by Chris Heath | GQ | May 2020 Issue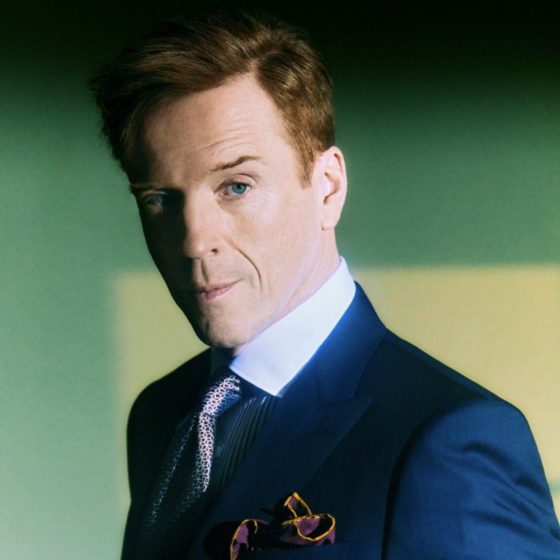 No actor has conjured the id of the modern American male quite like this highbrow brit who had expected to spend his life in the theater. Instead, Damian Lewis has become a stalwart of premium television, blurring the line between protagonist and antagonist – and emerging as one of the most thrilling actors of his generation.
Damian Lewis sits in the winter sun at a cafe near his North London home, trying to shut out the incessant blare of a nearby car alarm – "It's annoying, isn't it?" he exclaims, as though the pent-up politeness of denying this has finally become too much – while he considers how to answer questions about how he came to be the kind of person who has to answer questions like these.
By some combination of happenstance and aptitude, Damian Lewis has become best known for playing memorably imposing American characters on premium-cable TV shows. Most recently he has been the toxic financier Bobby Axelrod on the hedge-fund drama Billions (at press time, still lated to return in May despite the upheaval caused by the coronavirus); nearly a decade ago he was Nicholas Brody, the Marine returning from eight years as an al-Qaida prisoner, on Homeland; a decade before that he portrayed Major Richard Winters, the central character on Tom Hanks and Steven Spielberg's celebrated World War II drama Band of Brothers.
The most obvious irony here – that these men who, in their very different ways, seem so fundamentally and viscerally American are played by a man as quintessentially British as Lewis is – has been much remarked upon, though in some ways it's amusing how startled we continue to be each time we discover that an actor is good at acting. But there are other reasons, Lewis acknowledges, why his story is an unlikely one. Although he did set his sights on becoming an actor from a fairly young age, his plan wasn't to become the kind of actor he is.
"I had no desire to be in film or TV," he says. "I didn't really go to movies, didn't really know what they were, wasn't really excited by them. I never really watched TV. We weren't really allowed to watch much TV as kids. We were a family that went to the theater, very middle-class."
Lewis was educated at Eton and came to believe that "becoming an actor" meant something quite specific. He'd expected to act in the theater – and for most of his 20's that was what he did, until life carried him off in this new direction; as we talk about it, he sometimes seems as though he's still processing a mysterious but happy accident. In fact, in conversation it can often feel as though two different Damian Lewises – the one he was raised to be, and the one he became – still coexist within him: At one moment he'll be pithily summarizing the show Billions as "assholes being assholes," the next he'll pivot to making  point about 16th-century cultural history (specifically how the English Renaissance took place slightly later than much of the European Renaissance and was primarily based around literature rather than art and architecture). When Lewis switches back and forth between these two modes, he does it so seamlessly you might even believe that, to him, there's no difference.
When the cafe's waiter (who earlier, when Lewis was in the bathroom, had felt the need to double-check with me: "…Homeland, yes?") comes back by, Lewis rebuffs his offer of a second coffee.
"No, no," Lewis protests. "I've drunk so much coffee I'm shriveling up and speeding up at the same time."
Lewis's current schedule does sound quite challenging. Right now, in the period when we meet, he is balancing a British-based family life (he has two children with his wife, actress Helen McCrory, who these days has her own standout quality-TV role as Polly on Peaky Blinders) and the demands of filming an American TV show by flying back to New York every second week:
"I land at seven o'clock on a Sunday night, go straight to my apartment, straight to bed, and get up at 4:30 in the morning, and then film solidly until 11 p.m. on Friday night, those whole five days, and jump on a plane to go home. It's exhausting."
Lewis nonetheless evidently relishes the opportunity Billions has provided him. Bobby Axelrod is a dark character, one who is charmingly and charismatically played by Lewis, but given Axelrod's ever growing catalog of awful acts, even Lewis is baffled by how successfully the charm and charisma sometimes prevails – so that, for instance, people will come up to him and complain that the character is no longer the good guy that he used to be. "Really?" Lewis says, acting out his reply to them, or at least the one in his head.
"Have you watched the show? I'm despicable!" Likewise are the weird collateral compliments he has faced from people in the hedge-fund world: "Women coming up to me, 'You know you're modeled on my husband, Michael,' or whatever it is. And I think, 'Well, do you visit him often in prison?"
He mentions that while week by week there's plenty to enjoy in playing assholes being assholes – "obviously there is something therapeutic about it, releasing that asshole in yourself in a safe environment, repeatedly" – there is a cumulative toll.
"Over a period of time, I find Bobby Axelrod sits heavily on me," he says. "By the end of each six months, I have had enough of it."
Away from the show, he rebalances with his family and pursues movie roles that have typically been chosen, at least in part, as a kind of antidote. Soon he'll appear as an unshowy Welsh accountant in the charming feel-good racing drama Dream Horse, and recently, in Run This Town, he took on an even less likely challenge: playing Toronto's populist train wreck of a mayor, the late Rob Ford, someone who resemblance to Lewis may not seem instantly obvious. "It's quite rare," Lewis concedes, "for an actor to be asked to go from my shape to 250 pounds." The required physical transformation was achieved through prosthetics rather than sustained overeating. "Look, I mean, I think I've taken a risk," Lewis says. "I'm aware of the risk. No question. I mean, people might just laugh and say, 'No, I don't get it.' "
That didn't happen the last time Lewis played a real person. When I asked about it, he acts out to me Quentin Tarantino's call inviting him to join Once Upon a Time…In Hollywood: " 'Look, I'm doing this movie…Steve McQueen's in it, man…and I've just always thought, man, that you'd be a great Steve McQueen…and will you come and do my movie?' "
But when Lewis showed up, he felt that there was a problem. It was the hair. Tarantino wanted the wig to be modeled on Steve McQueen of 1971's Le Mans. Lewis had imagined the closer-cropped look that McQueen sported in 1968's Bullitt. When he put on the wig, Lewis immediately had misgivings. "I just felt a bit like, basically, if Jon Bon Jovi was playing Robert Redford who was trying to play Steve McQueen – that's sort of who I looked like. And it didn't feel quite Steve McQueen enough. Because at least one of those people isn't very cool," Lewis says. "It was too straight-flowing, and it just looked a bit sort of '80s soft rock."
By the time he filmed the moment poolside at the Playboy Mansion that appears in the movie, the wig had been adjusted. Now it was "a bit sort of curlier and unkempt and matted," and Lewis was happier. "People said, 'You look like McQueen,' " he reflects. "So there you go. That's what we wanted."
As with any actor, over the years Lewis's public celebrity has gone through the inevitable cycles. But throughout it all, he has inspired an unusually committed fan ecosystem. His semiofficial fan-run website has a constantly updated collection of news stories about him, featuring a nearly 14-year archive of over 600 pages—more than 3,000 stories in all. (that's us he's talking about in case you're wondering!) And while that site—which, Lewis observes, is run by "a lovely, smart woman who is a professor of game theory at Duke University"—has a generally sober and respectful tone, there are other offshoots of online appreciation that are a little more breathless.
Consider, for instance, a word coined and included on the spuriously authoritative Urban Dictionary. The word in question is, um, Damiangasm. Two definitions are provided. The first manages to equivocate just a little: "The feeling of euphoric happiness or sexual pleasure that occurs when a Damian Lewis fan sees him do or hears him say something very sexy." The second doesn't: "When you're jilling off to Damian Lewis and have the best orgasm you ever had in your entire life."
"I mean, this is all very odd, isn't it?" says Lewis when I mention this word to him. I know he's aware of the word itself because he once tweeted about it, but in what may be both a failure of courage and a rare burst of good sense, I flinch from reading aloud the definitions to him. Other awkwardnesses are available. There is a question that principally exists to torture and torment British actors of a certain age and bearing—the one about playing James Bond. Damian Lewis has been fending it off for many years. Before he leaves, it seems almost rude not to keep him in practice, so I ask him how he deals with it.
"To be honest, it's subsided," he reflects. "And I don't want to play James Bond anymore. If someone had asked me 10 years ago, that might have been a different matter. But I don't have that sort of ambition now. I don't want to go traveling off around the world for eight months of the year and play one character for the next 10 years. And I think I'd be the oldest new James Bond cast, maybe after Roger Moore. Or maybe even older than Roger Moore. So, you know, I don't think it's a problem. I don't think it's something I have to think about."
He does concede, however, when pressed, that the possibility did used to be on his radar.
"Well, I think it was quite exciting five years ago, maybe, when there was a bit of press and suddenly I was—along with, I think, one other actor—the 'favorite' to be James Bond," he says. "But that's not going to happen. That's gone. That's gone, without regret."
Lewis rises to leave. As he does so, the waiter reappears, brandishing his phone.
Lewis chats with him amiably, peppering him with questions. He establishes that the waiter is Kurdish and empathizes with the Kurds' geopolitical dilemma. The waiter asks for a selfie. Lewis accedes but says that he wants to take it, explaining—just one further unacknowledged talent—that he is particularly suited to such tasks.
"I've got unusually long arms," he says.
Lewis stretches, takes the photo, job completed. The waiter asks if he will take one more.
Read the rest of the original article at GQ
To view more photos, please visit our Gallery here