The Wedding Singer
by Rianne Addo | DailyMail | September 24, 2020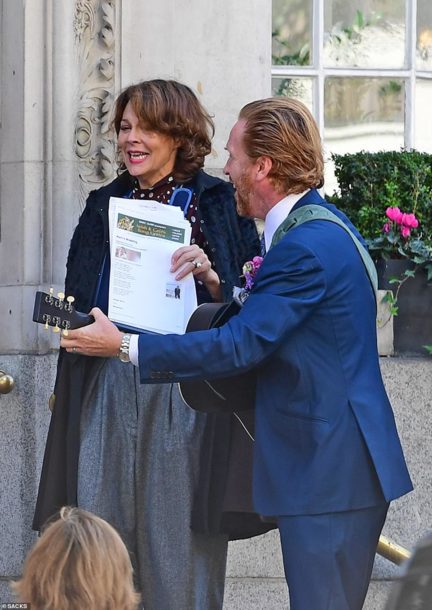 Damian Lewis played the guitar alongside wife Helen McCrory at their friends' wedding on September 24, 2020.
He showcased his musical side as he pulled out a guitar to perform at the wedding, held at Kensington and Chelsea Register Office in London on Thursday.
The Once Upon a Time…in Hollywood star, 49, was joined by his actress wife Helen McCrory, 52, as they celebrated the occasion by singing along to a series of classic Irish tracks. Helen proudly held up the Irish and Celtic lyrics for Damian to follow along.
As ceremonies and receptions in England set to be capped at 15 people from Monday as part of new coronavirus measures to curb a surge in cases. The screen stars' pals were able to narrowly avoid the new restrictions as they marked their milestone with their loved ones.
Prime Minister Boris Johnson added that funeral services would be exempt from the limitations, with the maximum number of mourners remaining at 30.
Damian couldn't contain his delight as he congratulated the newlyweds while strumming the strings of his instrument. Helen's right arm was held up in a sling, nearly a year after she used a scarf to support the same limb during a night out.
To view more images of this event, please visit our Gallery here
Read the rest of the original article at DailyMail