Seventh Time at the Helm
by Emma Kelly | Metro | September 22, 2020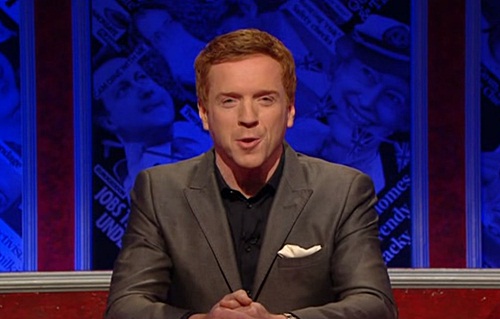 Have I Got News For You is returning to its studio for its 60th series.
Series 59 of the long-running panel show was filmed virtually, from the panellists' respective homes during lockdown.
However, the upcoming series, which will mark the show's 30th anniversary, will be back in the studio, and hopefully with the reintroduction of a studio audience.
The audience at Riverside Studios in Hammersmith will be socially distanced and at a reduced capacity, while there are plans to have a second socially distanced audience watching the record from a separate screening room, with this audience's live reactions being used to recreate the impact of a full audience.
While the audience is reduced, though, there has been no scrimping on the star power.
The first episode of the 60th series will be hosted by Homeland star Damian Lewis, who is returning for his seventh time at the helm.
Comedian Josh Widdicombe and journalist Katy Balls will be joining regular team captains Paul Merton and Ian Hislop as guest panellists, as the show marks three decades since Have I Got News For You's launch on the BBC in 1990.
According to BBC 1 website here, episode one of the 60th series will air Friday, October 2, 2020 at 21:00 p.m.
Read the rest of the original article at Metro