Charity Appeal and Digital Learning
by Gingersnap | damian-lewis.com | September 29, 2020
Just this past September 11, Damian brought awareness to the Juvenile Diabetes Research Foundation (JDRF-UK) for The Hall School Triathlon Charity Appeal with this video message. It's not too late to give, if you can, here. All money goes towards JDRF – UK's leading Type 1 Diabetes charity.
Earlier in June of this year, Damian participated via Zoom in The Hall School's "History Matters" series as part of their digital learning program, which focused on the boys' curriculum. The school was honored to welcome Damian and hear him discuss his love of history.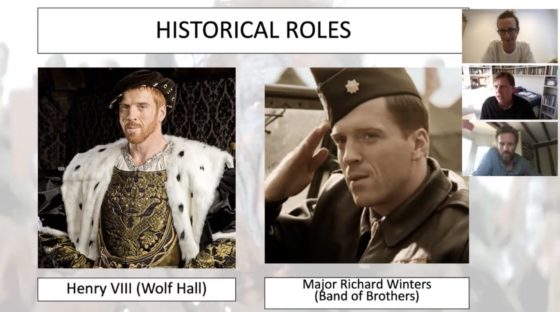 From this Zoom snapshot above, it appears Damian discussed playing the historical roles of Dick Winters in Band of Brothers and King Henry VIII in Wolf Hall. Lucky students!