Big Hitter
By Louis Wise | Telegraph | October 16, 2020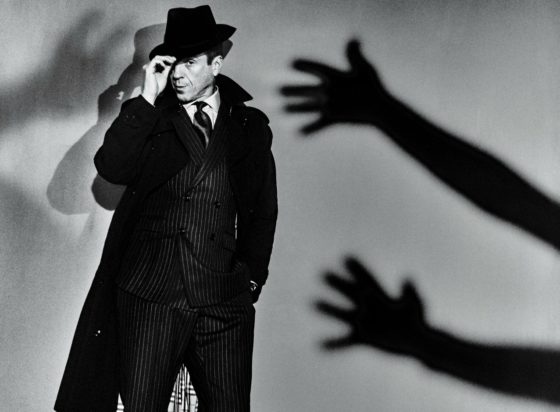 As Billions returns, the actor explains why he isn't interested in playing 007 – or bothered about turning the big 5-0.
Damian Lewis's next birthday is the big 5-0: at the risk of seeming indelicate, does it mean people will stop asking if he's the next James Bond? The actor, star of Homeland, Wolf Hall and Billions, hoots gruffly down the phone. "Well, no! You're proof of the rule!"
Oh dear. Sorry. I had read this summer he really was dismissing all chances of becoming 007, so it only seemed fair to check. Talking from his home in north London, which he shares with his wife Helen McCrory and their two children, he is happy(ish) to clarify again.
"I don't want to play Bond. I'm ambitious for different things," he sighs. "I don't know who they'll choose – he'll be fantastic, or she will be fantastic. But I don't want to play Bond – even if I was asked!"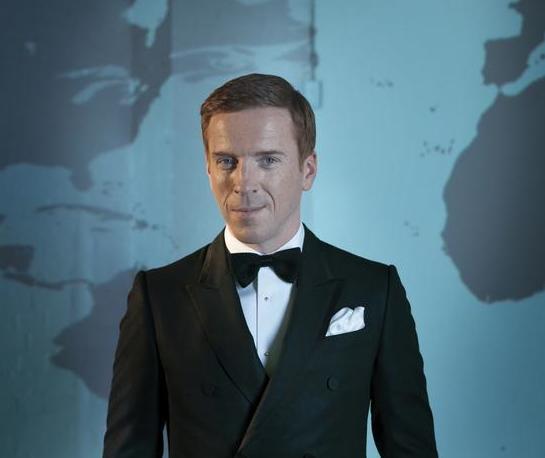 Poor Lewis. The Bond thing has long been an albatross around his neck, but you can see why. Ever since Band of Brothers debuted on HBO 20 years ago, ushering in a new golden age of TV and morphing the native north Londoner into a global telly star, he has often been called on to play various incarnations of vicious, tortured masculinity – whether it's the heroic Dick Winters in Band of Brothers, the conflicted and ambiguous Brody in the spy thriller Homeland, or latterly, the gangster oligarch Bobby Axelrod in Billions, which is about to return for a fifth series.
"It makes everything I've done sound incredibly old-fashioned, doesn't it?," he says of all these hardman roles. The funny thing is, he swears, "there's nothing macho about me at all". It's more that "I seemed to have a look that suited blue-collar Americans – ironically as I'm not a blue-collar Brit. So I've had this odd sort of duality in my career."
It's true: Lewis's famous red hair and stubborn chin mean he could easily be mistaken for an Irish American, but in fact his own Celtic heritage is Welsh, and he was born in St John's Wood, north London.
He's happy to have profited from the confusion, "but I think I'm much less rigorously alpha male than any of the characters that I play". This is perhaps born out by his pet, aging brown cockapoo Petra, who starts yapping away halfway through our interview, driven demented by the driving rain. "Stop it! You're a lunatic," sighs an exasperated Lewis. "Go inside!"
Lewis is garrulous company, both matey and self-assured, with that confidence and fluency characteristic of Old Etonians. Interviews often dwell on his five years at that school, and though he has generally fielded the questions with good grace, today you sense he also finds them quite dull.
The son of a City broker father and of a mother who served on the boards of the Royal Court and Almeida theatres, he has never denied his privilege, perhaps because, as an alumnus of the RSC, he feels he has earned his success.
He was a theatre nut as a child, he says, although he does also have fond memories of sitting down together with his family to watch marquee TV series such as The Jewel in the Crown and Brideshead Revisited, something he describes as "terribly middle class".
Is everyone wrong to peg him as upper-class, then? He sighs. "Oh I don't know, the distinctions don't mean much to me," he says, audibly bored. "I'm a Londoner with Welsh roots."
He might sound exasperated with this line of questioning, but broadly he is very genial, having enjoyed being at home with his family during lockdown. Back in March, Lewis and McCrory took part in the #FeedNHS campaign, delivering food to NHS workers; seven months on, he jokes that he is mostly a "Free Dad Cabs service", but also adds that they are still being "very strict" with the rules. "The dinner parties have dried up in Château Lewis, I'll tell you that."
Whichever way you cut it, Lewis's world is still light-years away from the insane privilege of Billions, where Axelrod has been pumping and thumping his way through the rarefied strata of the 1 percenters since 2016. The show charts the long-distance duel between the "Axe" and righteous attorney Chuck Rhoades (Paul Giamatti) as the latter tries to bring Axe to justice for his nefarious wheeler-dealing.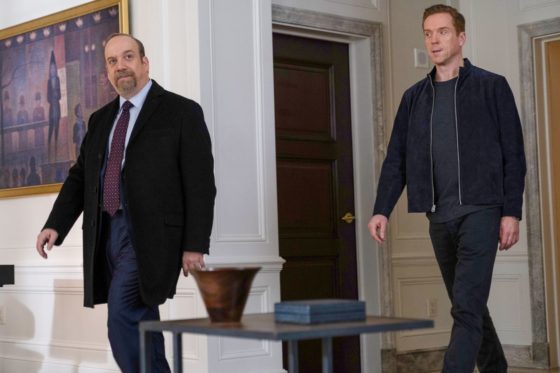 Essentially, as Lewis himself points out, Giamatti is the sheriff, and Lewis is the gunslinger.
"It's had an interesting journey in terms of its cultural impact," he says. "I suppose the first season was two alpha titans in the world of law and the world of finance swinging their willies at each other, frankly. And then Trump came in, and he sort of sharpened the cultural commentary of the show."
Indeed, Lewis thinks that Billions "is the most Trumpian show on TV. It's so reflective of a certain milieu, of high-achieving competitive men who drive our lives with their immense wealth and their political power – and sometimes their petty rivalries".
Is playing someone like Axe fun, then? "Umm, no," he sighs. "I do find him a bit wearing after a while, to be honest with you." That world is "a depressingly cynical one," he explains. "There's a slightly worrying tendency in the States to back the winner, and to love the winner, and to not ask too many questions about how he won. That's how Trump got to the White House."
Lewis is actually "pretty calm" about his 50th in February. "I was less keen about being 40 – there seemed to be something rather portentous about that. But I feel quite relaxed about 50." He can take consolation from the fact that his 40s turned out to be "Ab Fab", as he puts it. "They've really been the story of my family, and also fantastic, dazzling things as a result of my career going well… My 30s were much darker."
Just after Lewis broke through with Band of Brothers, his mother died in a car crash in 2001. It took him a good while to grieve. "It was a big shock. I was awoken by a phone call from my sister at 3am in Los Angeles – it was a hell of a wake-up call. And it took a long time to deal with it. I had three or four years of just tearing around like a bit of a headless chicken, and probably thinking that what I was doing was quite exciting and a bit rock'n'roll, but you know, those times in your life aren't always the happiest."
Not coincidentally, Lewis met McCrory in his mid-30s; they married in 2007. "Helen definitely helped me out of that, no question," he says. "She was unlike anyone I've ever met. She still is."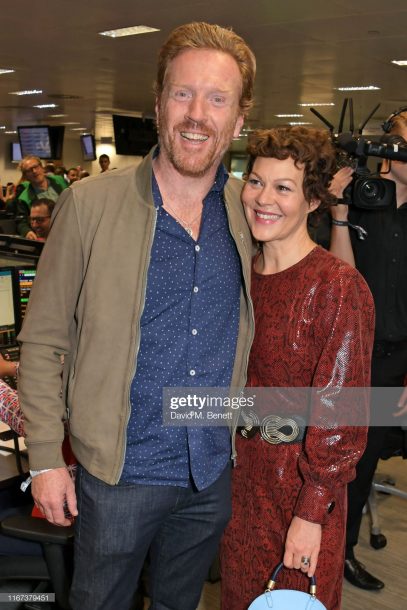 All of which leads me to congratulate him on keeping the relationship going for so long. Quite an achievement for two actors, I say.
"Oh, that's very cynical," he chides, just about good-humouredly. "What are you saying: 'What showbiz marriage lasts more than 10 years?' "
Umm – yes? Lewis is having none of it. "I don't really buy into that idea that just because you're in the creative world, it might make a marriage less stable," he says.
So you're not two rampant egotists fighting for attention? The line goes quiet for a moment. "I didn't say that,"
he purrs.
Read the rest of the original article at The Telegraph