A Warm-Hearted Tribute to a Spirited Animal and People
by Mark Jenkins | Slant Magazine | May 17, 2021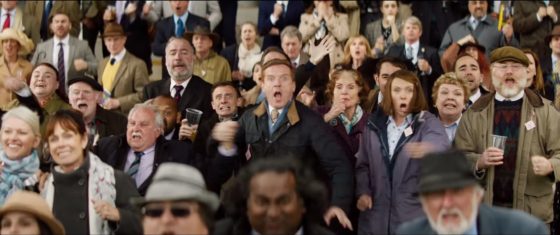 ***3 out of 4 stars***
Anyone who's seen Dark Horse, Louise Osmond's 2015 documentary about a group of poor Welsh villagers pooling their money to bankroll a race horse, will know what's going to happen in Dream Horse, a fictionalization of the earlier film. But, then, so will anyone who's ever seen an underdog sports movie, or one of those British ensemble comedies that celebrate working-class hopes and schemes. The comic drama works because of the smarts and relative subtlety of Euros Lyn's direction and Neil McKay's screenplay, and thanks to a winning cast of Welsh locals and a few outsiders, notably the versatile Toni Collette, who never lets her accent slip from south Wales to her native New South Wales.
Collette deftly plays Jan Vokes, a middle-aged empty-nester who tends a supermarket cash register by day and a social-club bar at night. Her affinity for animals is established in the opening scene, in which she awakens in the bed she shares with her long-unemployed husband, Brian (Owen Teale), and a huge dog, before then stumbling into the kitchen to be greeted by a convalescent goose. Jan doesn't covet a horse until she overhears local tax accountant Howard Davies (Damian Lewis) at the club, boasting about his success with a horseracing syndicate. (The story is partly true but missing some sobering details.) Inspired, Jan calls a meeting of neighbors in the depressed former mining town, and persuades enough of them to tithe weekly to fund the purchase of a mare. The winning argument involves hwyl, a Welsh word that can be translated as "fun" but also as "collective spirit."
As planned, the mare produces a yearling: Dream Alliance, a promising, if temperamental, track-runner with a distinctive white blaze. Jan, Brian, and Howard must then get the horse a trainer (Nicholas Farrell) and a shot at a race. Both tasks involve ethnic antagonism in addition to class conflict: Welsh against English and proletariat versus aristocracy. But the fictional Dream Alliance, like the actual one, is too good to be denied. The film emphasizes the villagers over their horse (who largely vanishes from the story after he's accepted into the circuit) and the steed's trainers and jockeys. Back in Wales, Brian transforms from useless to useful—it turns out he can talk to horses—while Howard tries to hide the project from his wife (Joanna Page), who vividly remembers the near-disaster of his last equine investment. Slapstick asides are provided by an alcoholic codger (Karl Johnson) who loses his trousers more than once.
Dream Alliance does re-enter periodically for several rousing racetrack sequences, which boost the film's pulse with multiple vantage points and dynamic editing. Unlike Dark Horse, which was restricted to archival footage, Dream Horse vividly stages perilous jumps, though the fall that results in a potentially life-ending injury is only suggested and not shown. Even so, viewers who love horses more than thrills are unlikely to be persuaded that steeplechase racing is a worthy form of entertainment. Perhaps Dream Alliance survives because he has what the Super Furry Animals song that powers one horsey montage calls "a fire" in its heart.
The tension between Welsh and English may be too lightly drawn to resonate with people who haven't lived it, and the repeated shots of the Vokes's van on the same suspension bridge will likely seem redundant to those who don't know that this route across the River Severn, the longest river in Great Britain, is the most visually striking passage from Wales to England and back. But little else here wants for clarification. Ambition, resentment, and elation are universal emotions, as is love for beautiful, spirited animals. Which is to say that even those of us who'd struggle to pronounce the word may find ourselves feeling a bit of hwyl.
Read the rest of the original article at Slant Magazine