A Winning, Feel-Good True Racing Tale
by Pete Hammond | Deadline | May 20, 2021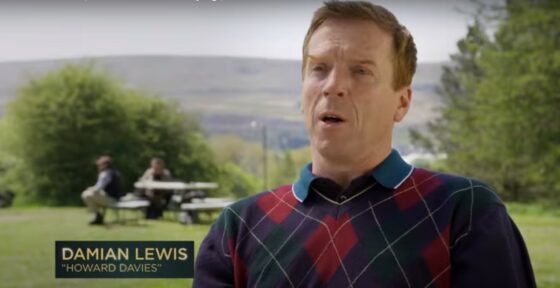 If audiences are looking for a little uplift after a long time locked down, if they want a feeling of hope and human connection, and if they long for just a good old-fashioned, Rocky-like feel-good story, then Dream Horse, is the must-see movie for them. Finally hitting theaters Friday after debuting at the 2020 Sundance Film Festival, it's one of those small gems that somehow gets made in the shadow of blockbuster tentpoles and genre films. This true story of a small Welsh town and the unlikely racehorse champion that brings them together is a lovely movie designed to make you feel good about life. Nothing wrong with that.
The story set in Cefn Fforest first came to light in the engaging 2015 documentary Dark Horse, which detailed the trajectory of the racehorse Dream Alliance, the name standing for the "dream" of bartender/grocery store clerk Jan Vokes, an empty nester with a stagnant marriage who looked to shake things up in her life by getting several of the townspeople to invest with her in a horse after hearing of the success of another group who did a similar thing. The horse, truly against all odds, became a champion on the circuit and took the "alliance" on the ride of a lifetime.
Toni Collette is ideal casting as Vokes, a woman hoping to re-ignite her life by taking a long shot on a simple idea. When she hears from Howard Davies (Damian Lewis of Billions), an accountant who found some success as part of a syndicate behind a winning horse, she gets the idea to bring her tiny coal mining town together in a bid to do the same thing. With much research, they come upon a horse who sires Dream, and then — through many ups and downs, including a near-career-ending accident on the track — watches their investment really pay off with an unlikely comeback that seemed like a miracle.
Although the core of the film revolves around the exploits of the horse, it is really what the animal's success does for these people, particularly Vokes and husband Brian (Owen Teale) as well as Davies (who initially goes against his wife's wishes to join in the alliance), that lives at the heart of the screenplay by Neil McKay. He and director Euros Lyn take the bones of the documentary and expand it into an inspiring tale of a ragtag group of locals who see their lives transformed in a way they never could have imagined. If you feel manipulated by this feel-good tale, so be it because it really happened, it gives us all hope, and something to root for, and that includes the success of small human movies like this one.
Lyn has cast the film perfectly with a fine group of character actors led by an outstanding Collette, who brings authenticity to just about any role she plays, this one of a determined woman who takes the reins and wills a new beginning into reality. Lewis and Teale are excellent along with a terrific ensemble. Dream himself is really seven horses overall but flawlessly edited so you would never know. Lyn uses innovative camera techniques to set Dream Horse apart from other racing sagas and has tacked on a catchy ending with the actors and the real-life people they portray joining together on a rousing rendition of a Tom Jones hit song. Shot in Wales on just a 28-day schedule, Dream Horse likely will have you cheering for all the right reasons.
Read the rest of the original article at Deadline