A Familiar Bet
by Glenn Kenny | New York Times | May 20, 2021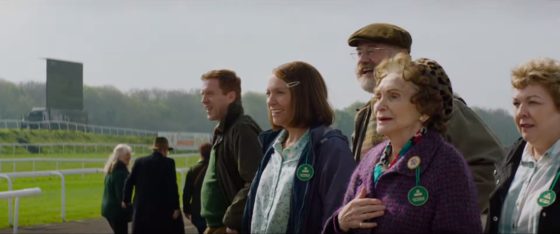 Toni Collette and Damian Lewis play two underdogs in Wales who invest in a race horse in this comedy-drama ripped from the headlines.
In the comedy-drama "Dream Horse," a woman who works two jobs gets an idea. Remembering her glory days of training animals — pigeons, to be exact — she is determined to buy a mare and birth a race horse. She doesn't have the resources to do it on her own, so she turns to her sleepy community in Wales to pool their assets.
This sports underdog story, which is based on true events, has several features endemic to the genre. But "Dream Horse," an unabashed crowd-pleaser directed by Euros Lyn, earns its smiles and cheers.
Toni Collette plays Jan Vokes, who works in a supermarket by day and draws pints in a pub at night. While her husband Brian (Owen Teale) is a terrible listener — the couple play a game when he's engrossed in television, in which he "um-hmms" at any outrageous lie Jan concocts — he is invested enough in their marriage that he doesn't blink when Jan proposes to spend a big chunk of change on a horse.
Damian Lewis is Howard, a put-upon salaryman who brings his racing expertise to the pub where Jan tends bar. He and Jan decide to form a collective to back the young foal named Dream Alliance, and it's off to the races.
It's lovely to see Collette and Lewis, who are largely known for playing intense, difficult people, bringing genuine life to likable "ordinary" characters. Director Lyn, a Welshman himself, includes credible local detail and does knockout work with the racing sequences, leading up to a finale in the rousing "Rocky II" tradition. The final credit sequence, reprising and expanding a karaoke scene from earlier on, is a kick as well, practically worth the price of admission.
Read the rest of the original article at New York Times