On the Trading Floor for CureEB and HvH Arts Foundation
by Gingersnap | damian-lewis.com | September 10, 2021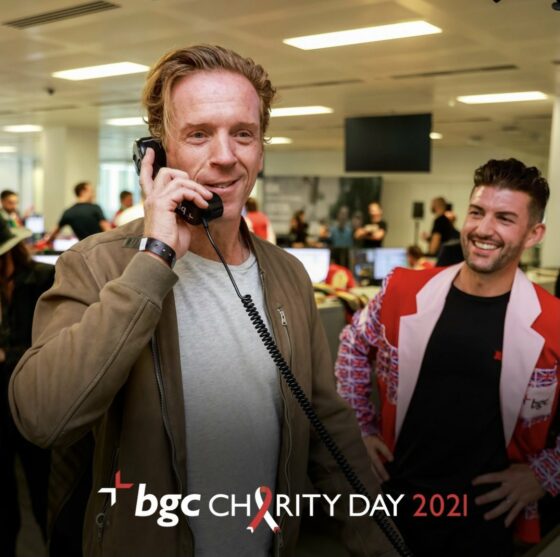 Damian makes trading look easy as he participates in the 17th annual BGC Charity Day 2021 on Friday, September 10, 2021 at Canary Wharf located at One Churchill Place in London, England for CureEB and the Sir Hubert von Herkomer Arts Foundation. He was among other celebrities, including Mayor of London Sadiq Khan, helping raise money for various charities ahead of the 20th anniversary of 9/11. The annual Charity Day supports BGC Partners and it's affiliated companies Cantor Fitzgerald and GFI Group and all profits made on trades today will go to charities including Blood Cancer UK, Help for Heroes, The Pret Foundation and Wellbeing for Women. In addition to BGC's offices in London, Charity Day 2021 took place across the firm's international offices including, New York, London, Paris, Singapore, Hong Kong, Sao Paulo and Sydney.
To view more photos of the event, please visit our Gallery here. We will add more photos as they come in throughout the day. Please check back! In addition, Damian was a guest on today's edition of Ian King Live for Sky News. See  three videos of the segment below, plus two additional videos from HvH Arts:
Speaking to Sky News business presenter Ian King, Lewis said the money he raised would go to two local organizations – Cure EB, which supports those affected by epidermolysis bullosa, and the HvH Arts Foundation.
"Tomorrow will be the 20th anniversary of that horrible day, September 11," he said. "I come here to support two charities, HVH Arts and Cure EB, and I am here to try to fundraise for them."

"I phone people who may have heard of me – or more likely Bobby Axelrod – and we do transactions. Luckily all interest is fixed, so I can't wipe millions of dollars off the course – action in one morning. "
Lewis said his wife was a HvH Arts patron and that it is a cause "very dear to my heart." He continued:
"He specializes in working with underprivileged children in North London, mainly in Camden, Kentish Town, giving them experience in the arts, photography, textiles, theater, music. is an exposure to the arts, which I believe is so important for young children, but it is also an experience of self-esteem and gives them confidence."
Lewis said he has been working with Cure EB for some time and that the charity is funding clinical trials to try to find a cure for what is a "horrible and horrible disease" which can cause cancer of the skin. Lewis also recalled how he was filming a difficult scene for period drama The Forsyte Saga with actress Gina McKee when he heard news of the September 11, 2001 attacks.
"There was a lot of talk about it before filming because it outraged audiences in the 1960s when the first adaptation was made," he said of the scene.

"We were in the middle of this pretty sensitive scene, myself and Gina McKee, and the first AD [assistant director] came up to the set and said, "I'm so sorry to stop filming everyone, but a plane just took off for the World Trade Center." And, of course, as we all know by now, he arrived 16 minutes later to give us the news again, that the other plane had entered the south tower. "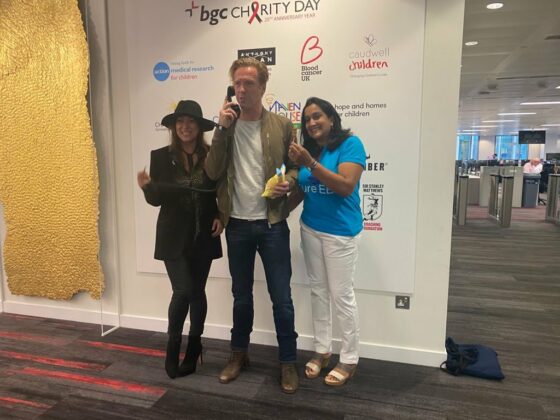 L to R: Debbi Clark of HvH Arts, Damian, and Sharmilla Collins of CureEB.org – Photo Cred: CureEB
CureEB is passionate about medical research and clinical trials that will help lead to treatments and a cure for Epidermolysis Bullosa, a severe genetic skin condition that leads to blistering and skin loss at the slightest friction. Children with the condition are often referred to as 'Butterfly Children' as their skin is said to be as fragile as a butterfly's wings.
Sir Hubert von Herkomer Arts Foundation, a foundation near to Helen McCrory's heart, is dedicated to ensuring that every child is given a chance to connect with and express their inner artist in a time when funding for the arts are squeezed out of the mainstream curriculum.
Source: Evening Standard
Secondary Source: News Net Daily