Podcast Episodes
by HBO Max | YouTube | September 10, 2021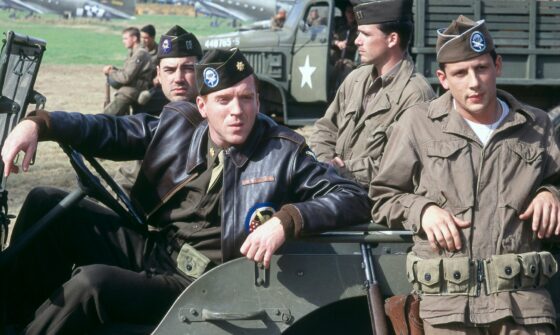 Hosted by Roger Bennett, HBO's Official Band of Brothers 12-part Podcast retraces Easy Company's journey from Normandy to the Eagle's Nest, episode by episode, with insight from its biggest stars, including Tom Hanks, Damian Lewis, Ron Livingston, and Donnie Wahlberg. The podcast celebrates the 20th anniversary of one of the most iconic miniseries in television history.  Listen to the Band of Brothers podcast here, which is available on Spotify, Apple Podcasts, and other major platforms. Or, listen to the episodes here. We will post each episode as it is released. Here is the prologue and episode 1 so far:
PROLOGUE with Tom Hanks — Academy Award®-winning actor, icon, and Band of Brothers executive producer — joins host Roger Bennett to discuss his lasting individual passion for Easy Company's story, what Band of Brothers set out to accomplish 20 years ago, and its enduring legacy two decades later.
EPISODE 1: Currahee (with Ron Livingston)
Ron Livingston, who plays Capt. Lewis Nixon, joins host Roger Bennett to reflect on Band of Brothers' first episode. Ron reveals his research process to portray the enigmatic S-2 Intelligence Officer, the way he surprised Tom Hanks during his audition, and the total immersion the entire cast underwent during a 10-day actor bootcamp (which had them train like actual 1940s paratroopers).
EPISODE 2: Day of Days (with John Orloff and Richard Loncraine)
The episode's writer and director each delve into the recreation, production, and filming of an invasion that carried the future of modern democracy on its shoulders. From the paratroopers flinging themselves out of C-47s, to the capture of German 105mm machine guns at Brecourt Manor, Orloff and Loncraine reveal how they captured the terror, confusion and heroism of one of the most important days in modern history.
EPISODE 3: Carentan (with Capt. Dale Dye and Matthew Settle)
Senior Military Advisor Capt. Dale Dye and Matthew Settle, who plays Capt. Ronald Speirs, join host Roger Bennett to relive one of the series' most combat-heavy episodes. Capt. Dye, who also plays Col. Sink in the series, opens up about his total immersion method that transformed actors into members of Easy Company. And Settle discusses his portrayal of the mythologized, enigmatic and unflinchingly fearless Capt. Speirs, and what it was like to play some of the series' most haunting scenes.
EPISODE 4: Replacements (with Frank John Hughes)
Frank John Hughes, who plays Staff Sergeant "Wild Bill" Guarnere, joins host Roger Bennett to discuss Easy Company's jump into the Netherlands as part of Operation Market Garden. Plus, Hughes' deep bond with the real Guarnere, a singular character who overcame the loss of his leg during the Battle of the Bulge to live a life that overflowed with selflessness.
EPISODE 5: Crossroads (with Frank Erik Jendresen)
Supervising Producer and lead writer Erik Jendresen joins host Roger Bennett to break down one of the series' most emotionally complex episodes, which leaves them on the brink of the Battle of the Bulge. Plus, Jendresen's experience sitting in the real Dick Winters' Easy Company inner sanctum while researching the project.
EPISODE 6: Bastogne (with Shane Taylor)
Shane Taylor, the actor responsible for one of the tenderest performances of the series as medic Eugene Roe, joins host Roger Bennett to talk the contradiction of being tasked with preserving life in a warzone. Plus, how the Englishman developed his Cajun accent, and Roe's relationship with Belgian nurse Renée Lemaire.
EPISODE 7: The Breaking Point (with Donnie Wahlberg)
Donnie Wahlberg, the actor who portrays soulful Second Lieutenant Carwood Lipton, joins host Roger Bennett to discuss the episode in which the spotlight shines brightly on him during Easy Company's darkest days in the Battle of the Bulge. He also describes the emotional bonds forged during the creation of Band of Brothers.
EPISODE 8: The Last Patrol (with Scott Grimes)
Scott Grimes, the actor who plays Tech Sergeant Donald Malarkey, discusses a pivotal installment in the series, where after a daring night patrol, the men of Easy Company begin to believe that surviving the war may actually be possible. Grimes reflects on how on Band of Brothers helped the real Donald Malarkey open up about the experiences he had kept bottled up for so long, and the profound impact Malarkey's transformation had on Grimes as an actor and human being.
EPISODE 9: Why We Fight (with Ross McCall and John Orloff)
Ross McCall, who portrays Technician Fifth Grade Joseph D. Liebgott, Jr., and the episode's writer, John Orloff, join host Roger Bennett to discuss this sobering, powerful installment of the series, which depicts the liberation of a Nazi concentration camp. McCall and Orloff reveal the unrelenting weight and responsibility they felt while creating the episode, and its enduring legacy some 20 years on.
EPISODE 10: Points (with Damian Lewis)
Damian Lewis – the Emmy® and Golden Globe® award-winning actor – whose portrayal of Major Dick Winters is the centrifugal force of Band of Brothers – joins host Roger Bennett to reflect on why a classically-trained, well-heeled Englishman was cast as a salt-of-the-earth American war hero, and why two decades later, Band of Brothers remains more than just a job.