The Reason I Jump and Dream Horse
by Gingersnap | damian-lewis.com | October 7, 2021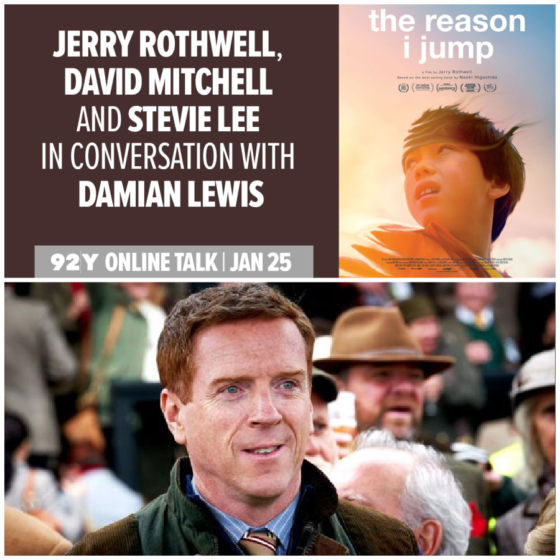 'The Week' UK has recently published their best drama films of 2021 and I noticed not one, but two that Damian Lewis either starred in or advocated for charity in this top 35 list.
Back on January 25 of this year we reported that Damian conducted an online talk with Director Jerry Rothwell, author David Mitchell (who co-translated Higashida's book) and producer Stevie Lee for an illuminating conversation about the making of the extraordinary documentary film, The Reason I Jump. Ticket proceeds of the virtual event went to the charity 92nd Street Y to help sustain their community organization and support the creation of new, online educational programming in literature, culture and the arts, as they were facing tremendous financial loss due to CoVid-19.  You can view photos of that online event in our Gallery here.
#14 The Reason I Jump
A world teeming with thoughts that you have no way to express is the stuff of panic dreams – and also of this "poetic and revelatory" documentary, said Danny Leigh in the FT. Based on the bestselling book by Naoki Higashida, a 13-year-old with non-verbal autism, it introduces us to young people from four continents with similar conditions, explaining how they struggle to construct a wider reality from the fine details which can overwhelm their senses, and the difficulty they have in separating recent events from long-ago ones. The result is moving and imaginative – "the young people are beguiling, their parents' love profound" – though one wishes that some alternative views of this highly controversial topic had been accommodated.
#16 Dream Horse
"The feelgood Brit-com is back!" said Kevin Maher in The Times. Whereas recent Brit-coms such as Military Wives and Fisherman's Friends have been marred by a "horrible" focus on X-Factor-like celebrity, Dream Horse is a "purer" form of the genre, which harks back to Ealing classics such as The Titfield Thunderbolt "with its carefully calibrated characters and often unforgiving dissection of class politics". Based on a true story, and set in South Wales, it stars Toni Collette as Jan Vokes, a barmaid in a former mining village who puts together a local syndicate to buy a racehorse. An empty nester living in penury, she is inspired by accountant Howard (Damian Lewis), whose love of racing provides an escape from the "crushing tedium" around him. Their "scrappy, allotment-raised" gelding, Dream Alliance, "crashes the snooty owners' paddock at Aintree", and goes on to win the Welsh Grand National.
Source: The Week