Tracking Down a Traitor
by Steve Bird | The Telegraph | October 31, 2021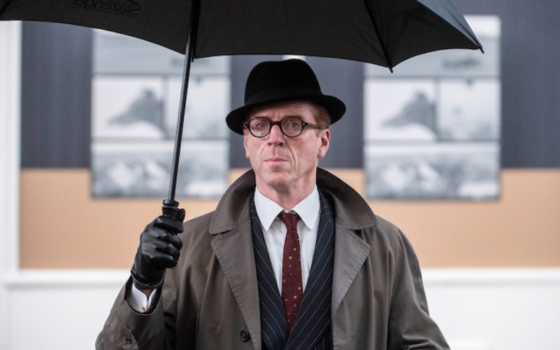 Damian Lewis filming the Cold War drama limited series A Spy Among Friends CREDIT: Julian Simmonds
Budding Bond Damian Lewis stars as the MI6 officer who played cat-and-mouse with Kim Philby.
Damian Lewis's fascination with spies has seen him play a John Le Carre secret agent and even present an entire documentary series on espionage.
But now, for the first time he has been spotted playing a real life MI6 spy in a new series about the life of Kim Philby during the height of the Cold War.
His role as Nicholas Elliott, an MI6 officer who defended Philby until his treachery became irrefutable, is ideal for Lewis who has insisted he would make a great spy, possibly better than James Bond.
Lewis, 49, was filming in London for the new Britbox series, A Spy Among Friends. Wearing Elliort's trademark round glasses and pin-stripe suit he was on a specially converted street with 1950's shop fronts in Pimlico.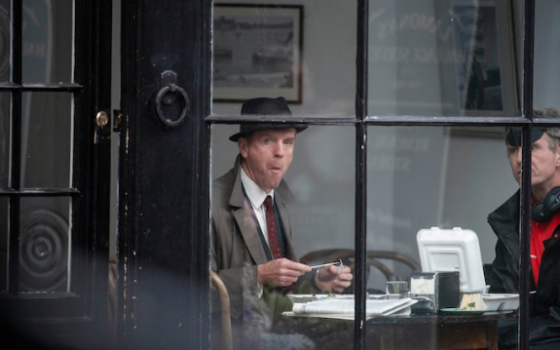 Damian Lewis on set in Pimlico CREDIT: Julian Simmonds
The programme, based on the best seller of the same name by Ben Macintyre, tells the story of the close friendship between Elliott and Philby who had once worked in Beirut together.
Elliott later told of his last contact with Philby in 1963. He had volunteered to confront Philby to get a full written confession about his career as a double agent. Although Philby did confess in person to his friend, he delayed signing a written confession and promptly fled to Moscow, where he was granted Soviet citizenship.
His escape led to widespread criticism of MI6, although Elliott was adamant that he could not have prevented his departure.
Their close friendship meant Elliott felt Philby's betrayal more acutely than many others in the Secret Service. Philby was a member of the Cambridge Five spy ring, which included Donald Maclean, Guy Burgess, Anthony Blunt and John Cairncross.
While Lewis has played a fictional spy in Le Carre's Our Kind of Traitor, a turncoat in the US thriller Homeland and presented a documentary series Damian Lewis: Spy Wars about real covert operations for the History Channel, the actor has never played a real life spy.
Around the time Lewis was being tipped as a possible successor to Daniel Craig, he insisted he would make a better spy than James Bond, a nod perhaps to his knowing the real world of espionage is very different to the make-believe one depicted in fiction.
"I think I'd be a good spy, better than James Bond, who's a rubbish spy," he told the Daily Mail.
A Spy Among Friends, a six-part series, is the first original drama by Britbox, a subscription service intended to rival the dominance of Netflix in the on-demand streaming format. The company has been launched jointly by ITV and BBC in the hope of attracting customers away from their American rival.
And, just as The Crown lured viewers to Netflix, it is hoped this latest Cold War series could draw in customers to Britbox ensuring the market benefits from British creative talent.
Numerous original Britbox programmes have been commissioned in the hope of wooing subscribers to the £5.99-a-month service, which also offers an archive of British shows from ITV, BBC, Channel 4 and Channel 5.
Read the rest of the original article at The Telegraph.
View more photos in our Gallery here