Happy Birthday, Damian!
by Gingersnap | fanfunwithdamianlewis.com | February 11, 2022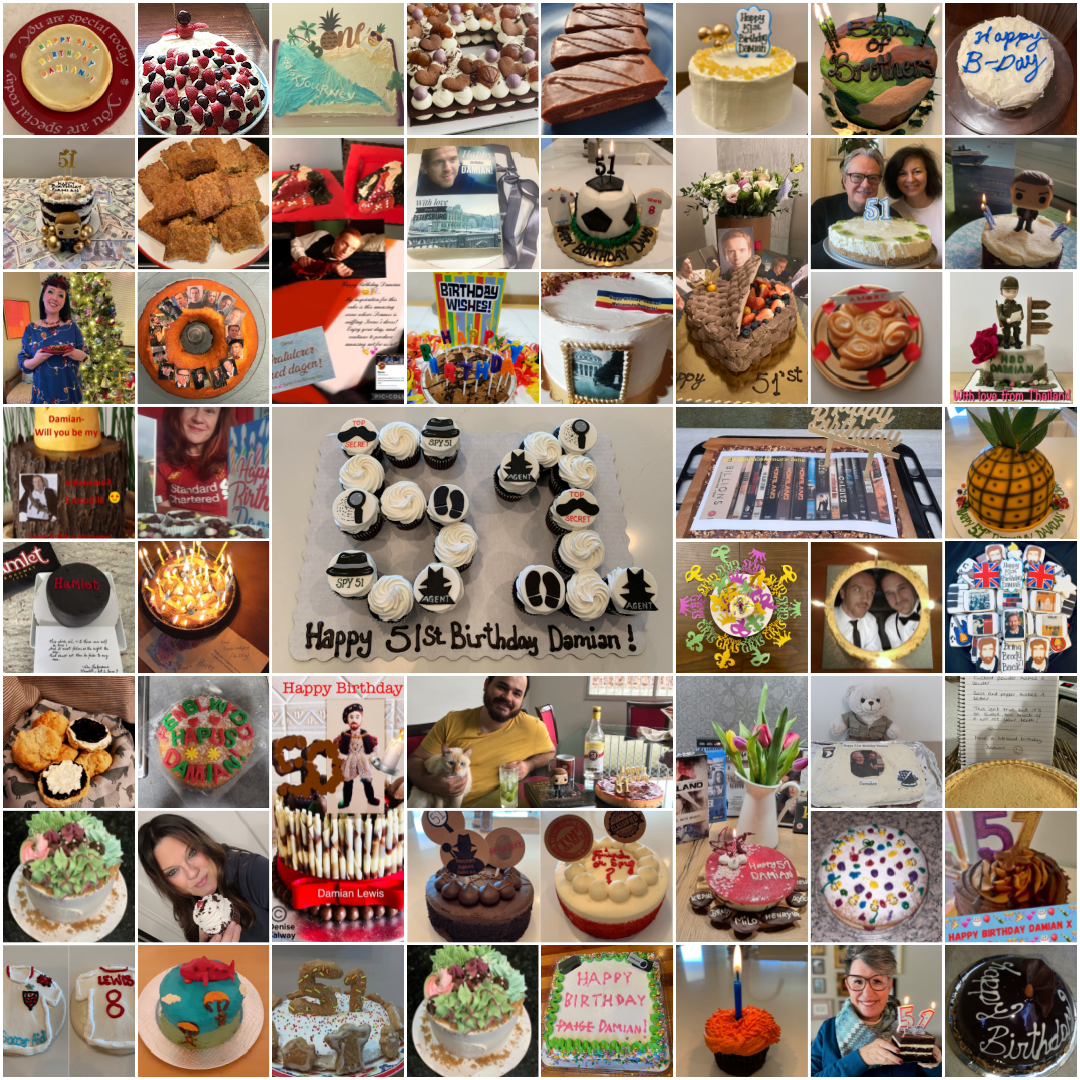 Today Damian Lewis turns 51! Happy Birthday Damian, from the Fan Fun With Damian Lewis Team and all the fandom around the world! Every January the Team begins contemplating what we can do differently to celebrate Damian's birthday in February and year after year we strive to be creative and unique. As you know, Damian has suffered a great heartache with the loss of Helen McCrory so this year we wanted to try and bring a smile to his face. What better way to do that than to gift him 51 birthday cakes! We planned, conspired and mobilized the fandom in the back channels of Twitter, Instagram or Facebook DM's, as well as e-mail, to accomplish this secret project.
Fans could make/bake/decorate their own cake, buy/design a cake from a bakery, or create an electronic cake using a photo editing program. Fans decorated their cakes from traditional birthday toppers to innovative displays of their favorite characters and scenes from television shows or movies that Damian has portrayed. Any dessert – from cakes, cookies and pies to tarts, cupcakes and pastries – the sky was the limit. The endeavor resulted in 51+ of the most imaginable and artistic desserts collected and compiled here for you all to enjoy. Cakes and desserts from all over the world! And guess what? The Team will be creating a picture collage of the cakes and desserts to send directly to Damian. On behalf of the entire Fan Fun with Damian Lewis team, we want to thank all those who participated.
The project was easy, fun and most importantly, bakers could eat the result! Read along with us as we share photos of each cake or dessert one-by-one with detailed descriptions, baker's name and baker's location. Oh, and there is a surprise at the very end waiting for you. Enjoy these fat-free, zero-calorie virtual desserts! 🙂
CAKE #1
Name of Cake: King of New York
Baker's Note: I may be many things – a professor, a blogger, a runner – but certainly not a baker. I can't even properly break an egg!!! So when Krista (Gingersnap on Fan Fun) came up with this idea for Damian's 51st birthday, I immediately knew I had to buy a cake and decorate it.
I love Damian.
I love NY.
I love Damian in NY more.
Voila! I am giving Damian the ultimate NY cake – a cake that Bobby Axelrod would buy for an Axe Cap birthday party. Not a classic like, say, Carnegie Deli's NY cheesecake. That's something Chuck would go for. Axe, on the other hand, would go for something clever, playful, and creative…so here you go: Milk Bar's Chocolate Birthday Cake –moist, fluffy, and crunchy with every layer giving you a different adventure on the palate exactly like every character Damian plays giving us a different adventure.
Happy Birthday, Damian! My message (and motto) is on my t-shirt!
Baker's Name: Bahar (Damianista of Fan Fun With Damian Lewis Team)
Baker's Location: New York, New York – USA
CAKE #2
Name of Cake: Charlie's Personal Pineapple
Baker's Note: I had to create a cake in honor of Charlie Crews – my most beloved character Damian has ever portrayed. Damian, here is your very own personal pineapple 🙂 Stacked yellow rounds between pineapple flavored filling with pineapple flavored butter cream as the frosting. That is not fondant! The pineapple sections were airbrushed on (had major help with that). I cut the crown leaves from cardboard so they weren't flimsy, iced them in thin green frosting and used the back of a butter knife to create the veins of each leaf blade. Finally I added some "fruit" for Charlie from Welch's Fruit Snacks and Runts candy. #PersonalPineapple #OrangeGrove
Baker's Name: Krista (Gingersnap of Fan Fun With Damian Lewis Team)
Baker's Location: Oklahoma – USA
CAKE #3
Name of Cake: Simple White Cake
Baker's Note: Simple white cake with recipe I found 11 years ago, when my daughter was turning 3 and birthday cupcakes were the order of the day. Since then it's been my go-to for all occasions. Because it's a blank slate, can be anything you imagine. Baked with much love and loads of good wishes that Damian's birthday offers a moment to celebrate his trip around the sun, a moment of peace, renewal, and hope for many brighter tomorrows ahead.
Baker's Name: Zarqa (Jania Jania of Fan Fun With Damian Lewis Team)
Baker's Location: Seattle, WA – USA
CAKE #4
Name of Cake: Fruitcake for Charlie Crews
Baker's Note: I made a fruitcake in honor of Damian's first character I really came to know and love, Charlie Crews! I chose something Christmas themed, too, to be on brand as the "Queen of Christmas." I made it in my own kitchen, based on this recipe. I'll be doing a vlog on my YouTube channel about this baking process, so watch for that! Happy 51st to the tall one! <3
Baker's Name: Holly (Holliedazzle of Fan Fun With Damian Lewis Team)
Baker's Location: Minneapolis, Minnesota – USA
CAKE #5
Name of Cake: A Slice of Ganache
Baker's Note: Chocolate ganache along with prayers for peace and joy in the coming year. Thanks for the happiness you've brought to so many!
Baker's Name: Lina (NotLinda of Fan Fun With Damian Lewis Team)
Baker's Location: Florida – USA
CAKE #6
Name of Cake: Sweet and Spicy DL Ginger Cake
Baker's Note: I have never baked a birthday cake with icing for Bahar/Damianista. In fact, this is my first birthday cake ever, and I have baked it for a dude. It had to be ginger for lack of imagination, but also sweet and spicy as Damian. We have found the right recipe at America's Test Kitchen, with ginger, cayenne, coffee, white pepper, cinnamon and more. A super moist cake as perfect as Damian in Keane. You can find the recipe here. I've been thinking about some crazy decoration, then we received some delicious and fun cookies, so a cookie, as seen on top of the cake in the photo, from one fan (Tiffany) to another, and from us to Damian with some added love. What could be more sweeter? See Tiffany's fabulous cookies below my pictures. And the t-shirt is Bahar's choice, a tribute to Damian's art.
Baker's Name: Atila (Lewisto of Fan Fun With Damian Lewis Team)
Baker's Location: I am not attached to a location. I live next to Damianista.
CAKE #7
Name of Cake: Bring Brody Back!
Baker's Note: Sugar cookies with the Homeland theme at the center and Damian's other loves soccer, music and his homeland the UK. I chose cookies instead of cake because I ordered from pro baker Nicole before and knew how amazing they would be. I had a quick conversation with her about Damian's birthday project and she was off and running researching him and what he loved. My birthday wish for Damian is simply peace and happiness for him and his family. He brings us so much joy with his art. I wish the same for him. <3
Baker's Name: Tiffany Miller
(cookies designed by pro baker Nicole Borota of Jersey Cookie Girl)
Baker's Location: New Jersey – USA
CAKE #8
Name of Cake: A Bundt by a Bunny
Baker's Note: 80-year-old baker reporting for duty! This is a glazed orange cake. It was a favorite of my husband's and this is the first I have made it since he died eight years ago. We were married almost 53 years, but had been high school sweethearts, so were actually together since 1956. So this is a bitter sweet offering from me. The characters I chose included some of my favorites, but also a few that we don't hear much about, like Warriors, Friends and Crocodiles and The Situation. I think of Damian and his family often, and have held them up in prayer many times during this past year.
Baker's Name: Connie, An Aging Bunny – one of the original Damian bunnies from the now defunct Damian Lewis Yahoo! group
Baker's Location: New Jersey – USA
CAKE #9
Name of Cake: Wolf Hall
Baker's Note: 50 + 1 knitted Henry VIII = 51 with a Tudor candle
Baker's Name: Denise Salway, The Knitting Witch
Baker's Location: Wales – UK
Join in the celebration and see all the remaining cakes at our sister site Fan Fun With Damian Lewis here.