Inaugural Launch of Mentor Charity: The McCrory Award
by Gingersnap | damian-lewis.com | June 15, 2022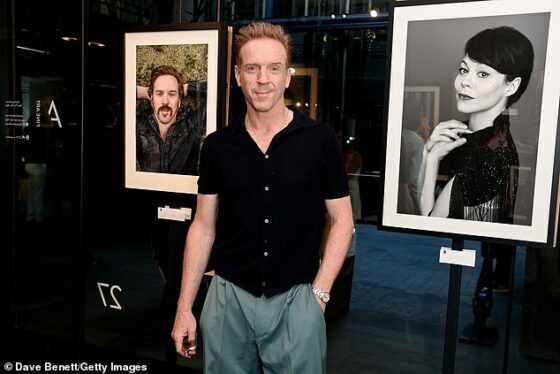 Today, June 15, 2022, invitation-only attendees gathered for a private viewing of an art exhibit showcasing exclusive photography pieces of Helen McCrory to support the Sir Hubert von Herkomer Foundation and to honor The McCrory Award. The foundation – which Helen was the former Patron of and is now patroned by Damian – gives access to free art and media workshops for disadvantaged children "…so they can express their inner artist" and flourish. Other featured photographs that were donated by friends include Fay Ripley, Mark Strong, Eddie Redmayne, Helen Bonham Carter, Sienna Miller, Jude Law, Sadie Frost, Billie Piper, James Purefoy, Harriet Walter, Harry Treadaway, Stephen Mangan and Andrew Scott, all who posed for Debbi Clark, photographer and CEO/Founder of HvH Arts Foundation.
The McCrory Award was announced that evening, with Damian presenting the award to three young HvH Arts Foundation artistic beneficiaries. The foundation is dedicated to supporting children and young people who are gifted in their art, yet many do not have access to resources, training or support to fulfill their dream. The McCrory Award and charitable mentorship will make their dreams become a reality. Helen always believed every child should have equal opportunities and accessibility to the arts.
The three beneficiaries of the inaugural McCrory Award: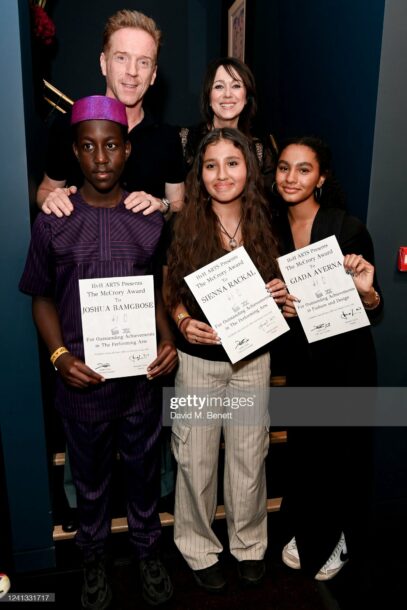 Joshua Bamgbose, Sienna Rackal and Giada Averna
The event was hosted by Alon Zakaim Fine Arts and held at the opening of their new gallery space on Cork St. in London, with 100% of the donation proceeds going to HvH Arts. Massive thank you to photographers Clive Arrowsmith, Ian Derry, Ray Burmiston, Charlie Gray, Chris Fleming, Chris Floyd, Nina Fowler and David Venni for donating their work. The exhibit was sponsored by Gilpin's Gin, Fortnum & Mason, Rioja, March Branding, Lily Vanilli (cake) and Olympus camera, and curated by Marcella Martinelli and Debbi Clark. Huge thanks to David Benett for taking photographs during that evening's event.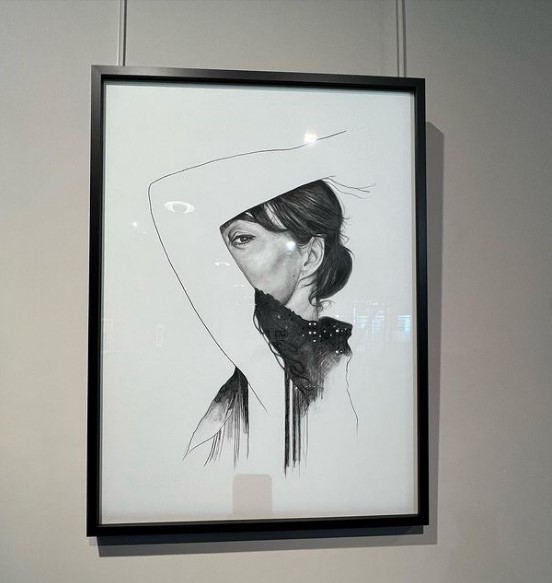 If you wish to browse the online catalogue for purchase through donation, click here. You can prize draw and pledge to support the charity. There are photographs of Helen, Damian, Jude Law, Helena Bonham Carter, Andrew Scott and more. To explore more about Debbi Clark Photography click here and here.
Below is a video clip from the event of Damian reading Helen's quote. Clip was provided courtesy of Marcella Martinelli's Instagram story. Thank you so much, Marcella, for your great work and for allowing us to share with our readers:
According to Evening Standard's Londoner Diary, Damian called for more funding for underprivileged artists as he gave out the inaugural McCrory Award. Discussing how UK art had been "middle-classed" due to being "critically underfunded" compared to neighbours, Lewis told The Londoner:
"If we want working-class writers… we've got to find a way of giving them the confidence to pursue it, but also the financial backing to have failures."
In a heartwarming ceremony, Lewis read out a McCrory quote on how art can "help children flourish". He told us he plans other awards in his late wife's memory.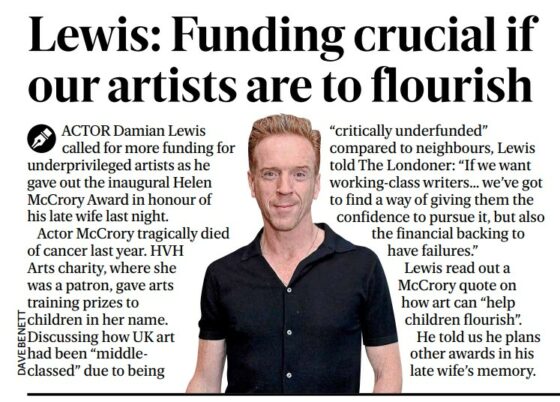 View more images of the exhibit in our Gallery here.
For more information about Sir HvH Arts Foundation, please visit their website here.