Wolf Hall
by Richard Chachowski | Looper | July 20, 2022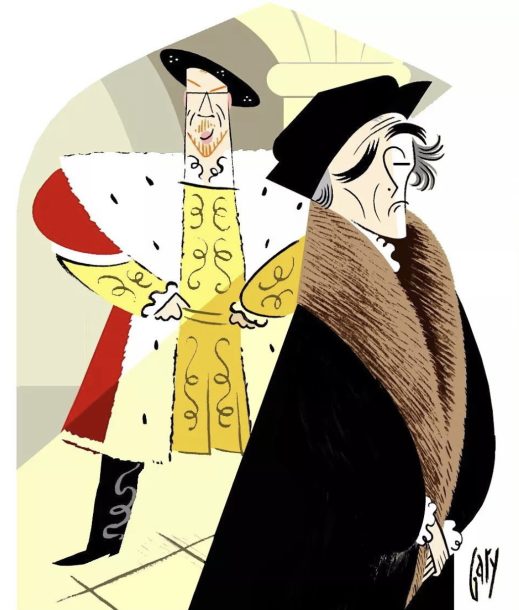 On the surface, one might immediately think that British television is very similar to any American TV program you can find on cable or currently streaming. However, as anyone who's seen a decent amount of British and American series can tell you, the two couldn't be further apart.
Known for their strong surrealistic elements, dry wit, and dramatically small number of episodes compared to American TV series, British TV shows are practically a genre unto themselves. Whether they encompass historical dramas, absurdist comedies, or sitcoms set in World War II, you know without question when you're tuning into a TV show from across the pond, judging from its sense of humor and content alone.
Like any nationality, the United Kingdom has a ton of British TV shows that are well worth watching in their own right, many of which have gone on to draw in a massive cult following of fans (such as "Doctor Who" or "Sherlock"). For as many well-known British shows there are out there, though, there are also dozens of series that frequently fly under audiences' radar today, but are still definitely worth seeing. Here is a selection of the 25 best, most under-appreciated TV series to ever come out of the U.K. ranked from worst to best.
5. Wolf Hall
Based on Hilary Mantel's best-selling novel of the same name and its sequel, "Bring Up the Bodies," "Wolf Hall" features a dramatized look at the tumultuous marriage of the unpredictable Henry VIII (Damian Lewis) to his wife, Catherine of Aragon, as well the king's efforts to annul the marriage and wed his newfound love, Anne Boleyn (Claire Foy). Aiding him in his quest is Thomas Cromwell (Mark Rylance), a lawyer attempting to find a way for the king to exit the marriage, free from the pope's permission.
A fascinating portrait of one of the British monarchy's defining moments, "Wolf Hall" is a political drama like no other, tracing the intrigue and maneuvering of Henry VIII and some of his most controversial marriages. It's a stunningly well-done drama series, strengthened by fantastic lead performances from its principal cast. The Guardian's Sam Wollaston labeled it "event television," writing that's "sumptuous, intelligent, and serious, meticulous in the detail, but not humourless or po-faced."
Possessing very few weaknesses and an abundance of strengths, "Wolf Hall" makes for an entertaining watch for any viewer, regardless of whether you hold an interest in history or not. Of its numerous awards, the series won BAFTAs for best drama series and best actor (Rylance), the Golden Globe for best miniseries, and received a Primetime Emmy Award for outstanding limited series, among literally dozens of other accolades.
Read the rest of the original article at Looper